NEW articles daily! Subscribe below to receive daily updates with our new articles!

Yes, there is a lot of computing power packed into those handheld devices. But a lot of social problems are there too. I was looking at my Granddaughters prom pictures, and every classmate had a phone in their hand, even while dancing. A lot of money could have been saved if they all stayed home streamed the music and were texting each other.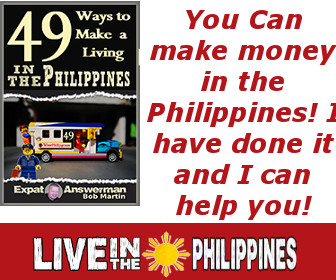 Where I'm living in Roosevelt Bataan, there have never been and properly never will be a landline phone service so it's "Cell/Smart" phones or live in the Stone Age. (Bamboo Telegraph or Coconut Telegraph)
I've groused over cell or smartphones use for years. If I meet up with friends for lunch and a few beers, my phone is at home or left in the car while I'm socializing with my friends. All my friends have phones but most restrict their use within the group. Did you come to be with your friends or do Facebooking?
We've had some guys sitting with us in a text confab with someone not there. We have levied fines on them (Buy the next round) but the most effective way is moving to another table to give that person the privacy needed to talk with his friends who wouldn't bother to meet up with him whereas we did.
Were they talking to their wife? Because during lunch our wives are sitting beside us, and now while the old farts are in the beer and sea story phase, the ladies take a table close to us and talk with each other. (And watch that we don't wander off, after all, it is the Barrio)
The occasional call is accepted; just excuse yourself and step away to talk. It could be family or some other important thing this is understood. My friends know that to reach me, they should call Mayang as she screens those calls when my phone is on the dresser at home..
Have you ever been riding a Jeepney with 10 loud conversations going on around you? And sadly you are required to listen to it. I'm on the Jeepney for the loud Hip-Hop music not a conversation between Do-dong and Apple Pie and will they be meeting at the market. I wonder if they'd all put the phone on speaker as it would be more fun to hear both sides of the conversation; I do hate it when it is one-sided.
In the olden days while in a bar or watering hole the phone would ring and the bartender would call the patron to the old llandlinephone the patron would cover the mouthpiece with his hand to hold a private conversation. If he was dumb enough to admit he was there.
When was the last time anyone saw that? Now they all shout into the phone at the bar, knowing we all are really interested in their call! We are interested, right? (Same as on Jeepney's and restaurants?)
I use none of the computing power of my phone; the data/WIFI has never been turned on. I have a computer at home, where I enjoy Facebook, with friends while Facebook is spying on us and selling our information to corporations and political parties. Why in the name of the lord, would anyone want to be bothered as they live their life away from home to be pestered all day, because someone liked a post you commented on? I don't want e-mails on my phone either!
I would not want to remove that Facebook or Twitter (Tweeting at my age?) pleasure from another person; but I just choose to give it a pass in my life. People have the right to do as they want, unless they are bothering other people which most times they are, but just don't care.
But what I do like about Smart Phone's is the size of the font, which I can read with ease. The other is the volume so I can hear each call. These are the two most important features I look for in any phone, but it seems the smart phones do the better job in those areas then those little Cell Phones the kids can use.
My wife has three smart phones, One OPPO and two models are Samsung. I cannot explain the reason she needs three, and she has attempted to tell me but left me scratching my head. Here is what I know, if it makes her smile, why would I want to take that smile away? She is otherwise very frugal with our funds. (She plays the lotto every week too.)
As a citified curmudgeon, the use of phones in this new millennium will continue to confound me, as my grandparents were confounded by TV (TV will destroy cultivation! Funny but cable NEWS has.), but when my granddaughter asks me for the newest super dooper Smart Phone, know that I'll more than likely say yes. Like me she passes her former phone on to another family member who needs one. When I give her a new phone now two people are happy. It's a Win-Win situation, for all.
In the words of Jimmy Buffett that famous philosopher of Beaches and Beer: If the Phone Doesn't Ring, It's me!