NEW articles daily! Subscribe below to receive daily updates with our new articles!

Yes I'm talking about the famous "Balik Bayan Box" that comes in at this time of year from the States, Europe or Australia, delivered by many shipping companies but mostly by the LBC folks and right to your door. Upon seeing the truck on your street Heart rates will rise; excitement levels will run amuck little feet will be tapping in anticipation of the opening of the flaps on "The BOX". It's just like Christmas morning but early it's like a party in a box.
The first "BOX" arrived last Wednesday from my Sister-in-law Susan who lives in Holland, and is married to a great guy named Evert and she have a son named Stephen who is one of the coolest little guys I've ever had the pleasure of meeting, and not just because he calls me Oom Paul (Uncle Paul in Dutch) albeit that does sound so cool. So now after all these years I'm a real "Dutch Uncle" well at least on LiP anyway, and he is my Oomzegger (Nephew).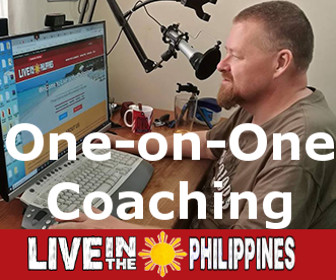 Within the BOX are goodies from Holland to include some chocolates from the Netherlands that I'm very fond of. But also Christmas presents for the kids. Susan sent a set of roller blades for Colleen (Our Granddaughter) which is far better than Ice Skates for cruising on the Zuiderzee (A River).
But the bottom line is the happiness the "BOX" gives to all the family here in the Philippines, and we miss her, Evert and Stephan very much at this time of year.
Now for Paul's list of what not to pack prior to bringing the BOX to LBC for shipping to the Philippines.
Spam: There is no shortage of it here.
Instant Coffee: Hey ground coffee would be nice.
Powdered Creamer: Again it's here.
Spaghetti and Macaroni: Yes we've never seen it before.
Ramen or any instant noodles: You are using that as packing material, right, like Styrofoam peanuts?
Costco's or Sam's Club #10 size cans of anything, (#10 = Restaurant size) they're too big even if we throw a large party.
Pringles: We are not living in the stone ages.
Okay, we all understand the packing of "The BOX" and sometimes we just run out of ideas. Now Susan packed a great "BOX" and got it all right. But there is another IN-LAW who resides in the US of A who will send stuff like you've never seen, all of the above list and stuff that will surprise even the person who has seen it all. Clothes' from the thrift store? We have Ukay-Ukay here and they are overflowing now that the typhoons relief supplies are flowing in from around the world. Items that the family relies on me, to tell them what it is and how it's used (Which quite often is NEVER) Stuff that Mike & Frank (The Pickers) would walk right by. A good rule is; If you don't know what it is or does, don't send it.
When I was in the shipping business (Meaning sending LBC Boxes myself), I had a list of ages sizes genders and other information for the family. Then I'd walk into a Store somewhere in the world, find the young Pinay employee (And there always was one) tell her boss that I was going to spend an obscene amount of money, but not if I had to do it by myself. Give the young lady my list and follow behind her and nod approval as she checked off each name. Then I would tip her a few days pay, and tote it all to the nearest LBC using bearers and ship it home, stop for a few cocktails then return to the ship, as my Christmas shopping was now done.
Now Mayang has replaced the girl in the store as my duty shopper and I pull one of my daughters aside, and sneak her some money and have her shop for her mother presents. (I know they discuss it between themselves but I don't care) But I always shop on my own for that one special gift for Mrs. Thompson; because at least that one must be from me.
To those packing the "BOX" back in the land of the Big Box Stores, to send over to family and friends, remember those 1.75 liter bottles of Rum, Scotch, Bourbon, and oh, well use your imagination are always a welcome Stocking Stuffer, and won't be sold at the families Sari-sari Store in January. BTW; they still don't know what to do with those #10 cans of Hormel Chili w/beans Item # 740336 @ $8.13.at Costco's.
Note from my Grandson to the world, you can keep the stuff in the "THE BOX"" as long as he gets to play with "THE BOX".