NEW articles daily! Subscribe below to receive daily updates with our new articles!

The Christmas Season, a time of joy and sharing with family and friends, visiting and being visited, parties and get-togethers mirth and merriment and least we not forget our Patron Saint "San Miguel." Which is always there to be our social lubricant, for it is Beer that maketh glad the hearts of men, and eases a troubled mind
Inaana's (God Children) coming to the door, to see their Ninong and Ninang, nieces and nephews, brother and sister-in-laws, assorted little anaks whom you have no idea who they are so you greet them warmly anyway because, well, they're kids and they're cute.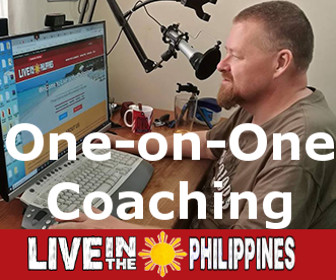 Our daughters and son's in laws, plus our Granddaughter and Grandson will also be in attendance, the house will be full, and laughter and smiles will rule the day, food in voluminous amounts will be consumed, presents will start to pile up under the Christmas tree. Hey what more could any man want?
There is one tiny little thing missing this year, all my buddies are gone! Not gone in the permanent sense of the word but not here in the Philippines this Christmas Season. My Kano neighbors like Carlos, Bob (Not fearless Leader Bob) and Don are all back in the USA this year for Christmas. My buddy Tommy is out to sea as he's a Merchant Seaman and had to work. My buddy Loren has departed this week to winter over in Colorado because he doesn't like warm weather? Gone they are, all gone and I'm by myself. Last year everyone was here at Christmas and the parties were endless.
But not this time, I have many acquaintances but it's not the same as friends or "BUDDIES". Oh well I'll survive, and they'll all be back sometime in 2014.
So if you're driving by Dinalupihan in Bataan, and you see a Kano wandering along the road with his Chocolate Labrador the leash in one hand and a beer in the other, give a wave, shout an obscenity, or just throw something at him. But don't feel too bad for him as his dog still likes him.
Well that was one hell of a pity party, don't cha think? Bored or lonesome, not really, as Mayang will be dragging me to every market and mall within a 200 kilometer radius from our house shopping and spreading the wealth to retailers galore. The store owners will be my new friends, greeting me warmly as I enter their store. Wishing me a Merry Christmas and waiting for Mayang to fill her shopping card.
Over the years I've read that at my age you'll end up with just one friend, I'm not buying that dribble for a minute, as I have quite a few, albeit they are not here right now, but no matter how far they travel they are in my thoughts. And there is more beer and rum left for me.
So as Charismas draws nearer, let me wish, all my friend and family plus all my friends on LiP, a most happy Christmas Season, and a Great and prosperous 2014.