NEW articles daily! Subscribe below to receive daily updates with our new articles!

Let's talk about our roof here in the Philippines, especially here on Luzon where we are but a few weeks from the rainy season (Monsoons). In Boston we had high gabbled roofs to aid in the disposing of the falling snow and that has not happened yet here in Dinalupihan Bataan so I don't need that type
I noticed as I traveled in areas prone to Cyclones, hurricanes and typhoons that the slab (Flat) roof was preferred. When I inquired as to the reason it was explained to me that wind had a difficult time of blowing off flat roofs. I have been in many typhoons and hurricanes both on land and at sea and thought about it. Then I said "The roof deal doesn't matter much at sea… well then they pointed to the Air Craft Carriers with a flat roof! Okay; that was lesson #1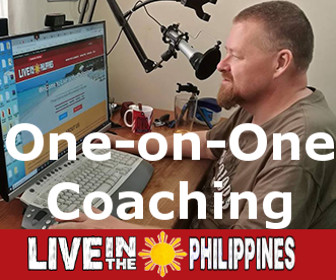 This is not a lecture as to what type of roof you should have, as a matter of fact if a thatched roof is your desire more power to you. This is about what sort of roofs I have on my house in Bataan, a cement slab roof, waterproofed with rubber barriers and Sahara mixed cement (waterproofed) plus rubber based Boysen Roof Guard paint. True there is a gabled roof on the man cave, but it's protected by the house which blocks most of the wind.
In Florida and Puerto Rico I also had houses and bars that had slab roofs, they flooded inside but the roof was attached when the storm went away. The flooding was another warning or lesson #2: "Paul; move off the beach you idiot and keep your feet dry."So mountains were what I sought out when I came to the Philippines.
Mountains will also provide gravity and rain water will seek its own lever which happens to be lower than where I live. Also mountains weaken typhoons. Yes I put a little thought into where I was going to live in the tropics. Paul learns lesson #3
My neighbor's prefer the slanted tin roof with the old tires up there to aid in the breeding of mosquitoes and by not painting them they save countless dollars. Behind me the guy treated his roof with vinegar and it smelled like a salad for a week and then painted it with a water based house paint I'll assume he had laying around. Three weeks into last years rainy season the roof was bare metal again. Now before anyone shouts that I have more money, than him, allowed to point out that yes he is Pinoy, but sails as a US Merchant Marine. Money was not the problem, being cheap was.
In 2013 we had the fringes of five big storms and countless small squalls that hit my area. All were rain driven by wind that broke through the edges of my roof where the walls connect and allowed a very small amount of water damage to the interior. It was nothing major, major but a sizable pain in the butt. In January I power washed my roofs and scraped the old chalking along all the walls. I have 7 three inch drains to remove rain water from my roof but the wind driven rain is the one that will getcha.
In the middle of buying the car, my wife Mayang decided that the roof was clean now and needed to be weatherproofed. Don't worry honey the US Government will crap some more money on us in a day or two. In fact she didn't seem concerned at all. First the crew arrives headed up by my brother-in-law Juhn He always provides a quality job, and since he is paid by the day he takes his time to ensure the job is done correctly. But you already knew that.
First the crew chalks ever square inch, well not really every inch but every crack and crevasse and or fissure they could find. Truthfully, take your time boys this is what I wanted to happen and I just let economics lead the parade. Cold beer and my mouth shut worked just fine for me. Now for the painting, of course I purchased the same Boysen Roof Shield or Roof Guard (I never get that right), the simple reason is, it did last 14 years the last time, but the cheap stuff you'll by every year over and over, buy the good stuff once. Lesson # 4 (BTW no vinegar was used).
In 1993, I was visiting my folks on Cape Cod, when my dad's 25 year old Sony TV showed its last "Price is Right". We went to a big box store and he asked what brand of TV I would recommend? I just asked; "How long did that Sony Last?" He bought a new Sony.
We did the patio roof, the man cave roof, the laundry area roof and the car port. Then Mayang pointed out one more roofs on our upstairs bedroom also has a roof, hey, I forgot, or might I blame the beer?
So as the rainy seasons rapidly approaches' I'm as prepared as I can be, I enclosed a picture of my neighbor "Rooster Man's" house and lot, his roof will be ready as soon as he places the used tires and hollow blocks up there. Feed for the roosters is vastly more important than a dry place fur his kids to live.
Last year my friend in Olongapo lost his steel truss and tile roof to a typhoon, instead of using the insurance money to lay a slab roof, he rebuilt the old roof, well some habits die hard even with Kano's. But if it snows his roof is ready!
Once more, in no way am I telling anyone that my way is the only way to go, but after countless typhoons I've yet to sustain any damage to our house since we built it in 1999. All I'm saying is' I did it my way! This article is just food for thought.