NEW articles daily! Subscribe below to receive daily updates with our new articles!

Four years ago we bought a new car here in the Philippines; I was busy at the time looking for a previously owned car; as 1978 was the last time I purchased a new car. My reasoning was simple, I was a sailor who was at sea for months at a time and had to store my cars and motorcycles while I was working. A new car that you only drive a few months a year hardly made sense, to me.
Here in the Philippines, it was a habit carried over from my time when I was going to sea, but I'm retired now, not going anywhere but to our house in Bataan. When my wife asked why we can't buy a new car? I had no good answer, the search was on.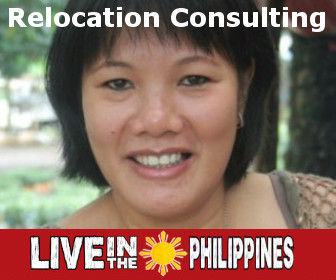 I want a car with a trunk, no hatchbacks as people can see what is in your car and could be tempted towards criminality. It must have four doors, I think 99% do now; it must be economical on fuel and a size where parking is easy. I smile when I see people driving a vehicle that is larger than they process the ability to maneuver both in traffic or a parking lot.
I started canvassing new cars on the Subic Freeport at the Ford dealership. I like Ford cars, but not enough to pay 1,200,000.00 Pesos for one. I searched the car to find the hidden gold ingots under the seats, but to no avail.
I smiled and walked towards the exit and my new old Honda out in the lot. Our Daughter Yohanna's brother in law had just purchased a new 2014 Mitsubishi Attrage (Known as the Mirage G-4 only in the Philippines) at Car World Subic (I saw the pictures on Facebook) it looked good to me.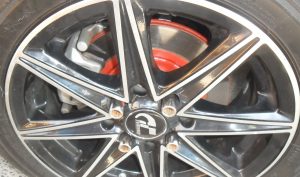 But Mayang was the deciding factor, as I told her she could pick out the new car within pricing limits. She liked the Mitsubishi G-4 from the minute she saw it. I smiled as the price was within the P800, 000.00 ranges and I could pay cash for it. Plus sell the Honda for a good price and put that money back into the bank, after I bought a few accessories for her new car because there was no way in hell I was driving a car with plastic hubcaps.
We made one trip back to the Car World dealership to have the first FREE warranty checkup and we never went back again. I refuse to pay those dealership prices. With that, I still like the Sales Department employees and talk to them often.
First, we never put the required mileage on the car to do the warranty checks and when it had three years on it the warranty lapsed and the odometer still had less than 18,000 kilometers or 6,000 per year. MAYBE BECAUSE I LIVE ON AN ISLAND! (LOL)
Now for the funny part, no turn-up required until 100,000 kilometers was on it, and the same with the oil. I cried "Bullshit" I have for over fifty-five years of owning cars changed the oil every four months and always change the filter with it. Except when they were in storage for six months, I changed the oil the day I took it out of the unit. Tune-ups every six months
So back to Garbes Dizon (Goodyear SevETec) my old service center I've used for twenty-five years are still my "Go To Guys". And here is the reason why.
Mayang and I were talking about servicing the car last week, so while she and her sister were out in town she stopped at Car World to get an estimate. ARE YOU READY? (All prices are in Pesos)
Oil Filter 385.00
3 liters oil 1,820.00
Air Filter 3,360.00
Spark Plugs 1,200.00 (EACH)
Do I need to continue? So the bottom line was…
Total Parts 11,184.00
Labor 3,415.00
Needless to say we'll be at Goodyear next week for the servicing of the car. And that my friends are why I will willingly void their warranty to save money. OH well, maybe I'll just buy a new car.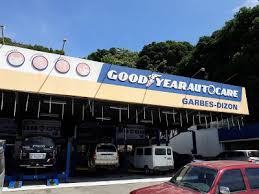 Monday morning at 0900 (9 AM) I arrived at Garbes Dizon and ten minutes later my car was on the lift to rotate and balance the four tires, while the oil was drained, then they drained and flushed the cooling system, I replace the coolant yearly and my mechanic uses my old coolant in his car. Waste not want not… Align the front end. Then check all breaks and they were found to be good.
New Air/con filter, adjusting the fuel injectors and new air filter go to the Barrio for brunch then returned at 1300 (1 PM) and paid the outrageous price of 6,000.00 Pesos (P 10,000.00 less than Car World) That made Mayang smile!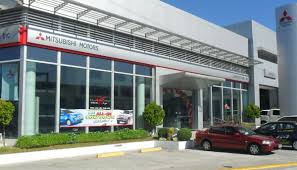 There are some funny things that could only happen in this land of enchantment. The Picture of the Car World Dealership I posted is from their website. But it was taken the day I bought my new car. How do I know? That is my red Honda parked out front. I was surprised when I saw that today. Plus they never paid me any royalties for using my car in their advertising. (LOL)
If servicing your car at the dealership is more to your liking, I recommend that is what you do. But as I said when I drive away from a dealership, I wave goodbye, I think it goes back to my previously owned cars habits. I'll never change at my age, as my mother used to say; "My middle son "Paul" is a thick head. It's funny as my wife says the same thing.
In 1978 I bought a spanking new Lincoln Town Car I paid half the purchase price as a down payment. The following day I noticed a Chrome dealership emblem affixed to the trunk of my shiny car. I returned to the dealership and asked that it be removed and the holes filled in and repainted. They offered me a $ 1,000.00 to leave it on. I accepted the bribe. And never saw those people again.