NEW articles daily! Subscribe below to receive daily updates with our new articles!

One of my favorite fruits in the Philippines is mangosteen.
A lot of people ask me, "Bob, what's a mangosteen?"  Well, a mangosteen, as I said already, is a fruit.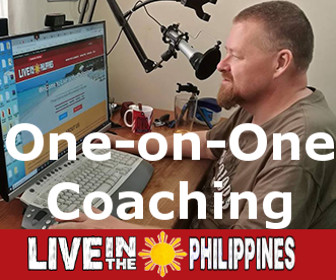 "Ah, it's some kind of a mango, then?"  Well, no, it is not a mango, nor is it anything like a mango.  It is not related to a mango, it's not even the same color as a mango.  I am not quite certain why it has a similar name, but it just does.
A mangosteen is a deep purple color.  It has a few green "leaves" on the top.  I put leaves in quotation marks, because they look like leaves, but they are hard, part of the piece of fruit.  They are part of the stem, I guess, they hold the fruit to the tree.
The purple "skin" of the mangosteen is thick, about 3/8″ to 1/4″ thick.  The outside of the skin is deep purple, while the inside of the skin is more of a deep red color, and it will stain your fingers as you dig out the edible part of the fruit.  Really, the outer purple part is more of a shell than a skin, as it is thick and hard.
What about what's inside, the stuff that you eat?  Well, the mangosteen fruit is broken up into sections, usually 6 or 7 individual sections inside each shell, but it varies.  The edible fruit is white in color.  There are small sections and larger ones.  The larger sections have seeds in them, the smaller ones do not.  The fruit is kind of a tangy "sweet and sour" type of flavor.  It is really one of my favorites.
In the west, the Mangosteen in recent years has become somewhat popular through it's juice.  Supposedly the juice of the mangosteen has medical benefits, and the juice is sold by many companies.  It is expensive, though, I have seen it for as much as $50 per bottle (the size of a bottle of wine).  Fresh mangosteen in the Philippines is readily available here in my area for P60 per kilo or so.  That's 2.2 pounds of the fruit for about $1.35.  Personally, I am not sure I believe in the supposed benefits from the juice, but I feel that if there id medicinal value, it is probably much more viable from the fresh fruit than it would be from juice that has been in a bottle for months.
I have learned a trick about mangosteen, something that few people seem to know.  Even when I tell Filipinos, they look at me in disbelief until I prove it to them.  You see, on the bottom of a piece of mangosteen, there is a little part that looks kind of like a flower.  If you count the number of petals on this "flower" on the bottom of the fruit, it will correspond to the number of fruit pieces inside the shell!  To prove it to yourself, you can count it over and over again, and each and every time it will be absolutely correct!  Like I say, few people seem to know this bit of trivia, but now you know it, and can amaze Filipinos when you are visiting here and show them!  Have a look at my video included in this article to see what I am talking about.
So that is my look at the Mangosteen fruit, which is readily available in the Philippines.  It is one of my most favorite fruits, and I buy it very frequently.  Give it a try, I'm sure you'll enjoy it too!