NEW articles daily! Subscribe below to receive daily updates with our new articles!

Feyma and I are moving back to the United States
When will it happen?
Frankly, Feyma and I have settled on the decision, it is not in question at all anymore. We are moving to the United States. But when?
We will be staying in the Philippines for another 5 to 6 months or so. There are a number of factors in the "when" question.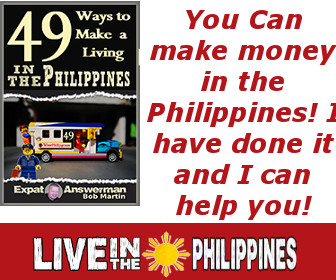 Nicole
Our niece, Nicole, who has been living with us for the past 8 years is in school here in Davao City. She will return to live with her parents in General Santos.
However, Feyma and I decided that we want her to complete this school year in Davao City, then she can transfer to another school in General Santos.
Nicole's current school will complete the school year in late March or early April, so that is our target date for moving. It could be as long from now as May 2019. I doubt it would go beyond that, though.
Business
The timing with Nicole's schooling fits in perfectly with business commitments as well.
Right now, I am very busy fulfilling my contracts with many malls and other companies around Southern Mindanao. I am Santa Claus at a lot of these places. It is a really good business and pays a lot more than most would even believe, so I want to fulfill this. If anybody is interested in this, I will be selling the business after this year, and I have a lot of big profile clients, like SM Malls and other well known Philippine companies.
Additionally, our other big company, WowPhilippines, is an eCommerce business that delivers gifts to wives, girlfriends and such here in the Philippines. So, a person overseas can order things like flowers and other gifts, and we deliver to any address in the Philippines. Our two huge months for business are December (Christmas), and February (Valentines Day). Staying for these two holidays will put a good amount of money in the bank, and it also ties in with Nicole's schooling, so that is what we will do. After Valentine's Day, we will move forward with selling WowPhilippines.
After wrapping up Personal and Business Commitments
After we have taken care of the things listed above, we will move forward by liquidating pretty much everything we own. We will likely sell or give away everything, nothing will be moved back. We are looking into moving back a few sentimental items, but it's unlikely we will even do that, beyond what will fit in our luggage on the airplane.
So, April or May
Although it "kind of" seems like a long time away, April or May are quickly approaching and considering the scope of moving half-way around the world, I don't think we could move more quickly if we wanted to. April or May seem like the natural time to make the move!
Hard work ahead
November and December – with my Santa Business I am already busy doing Santa appearances. Over the past week, I participated in Christmas Launch at SM Lanang Premier, Davao, and SM City GenSan. Those were big events, and required a lot of my time!
December – Also, in December, WowPhilippines Christmas business will kick in, keeping us on the run at least until the last week of December.
January – January is also a busy month for us. Preparation for Valentine's Day business. This year, particularly, we want to have a real big Valentine's Day, so preparing for that will keep us on the run.
February – Well, of course, the first half of the month will again be devoted to Valentine's Day with WowPhilippines. The second half of the month will be time to start kicking in with actual moving things. Finalizing everything. Starting to sell things that can't be moved (most everything).
March – Getting Nicole wrapped up with her school, and continuing preparing to move.
April and May – Doing the big move.
I don't really see much free time on the horizon. Lots of work ahead. Probably the first rest will be once we are in the USA and settled in. Whew!