NEW articles daily! Subscribe below to receive daily updates with our new articles!

Did I type that right? A nude awakening? Isn't the old saying supposed to be a "rude" awakening?  Read on, and you decide.
I live in a kind of mid-level neighborhood.  Oh, it's probably slightly upscale by Philippine standards, probably a little downscale by US standards.  Most of the people who live in my neighborhood are Filipino professional types, and Missionaries from abroad.  The neighborhood is certainly not "upscale" – it's not a gated community or anything even near to that.  Twenty years ago, this would have been an upscale Philippine neighborhood.  These days, it is an upper-mid level neighborhood that has declined from what it used to be.  I really like the area, though.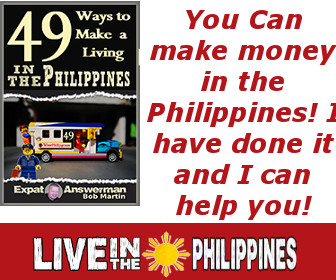 Our house is quite nice, although it's about 40+ years old.  It's big, about 4,500 square feet, or 450 square meters.  There are many similar houses in my neighborhood.  It's not an unusual place for the neighborhood, although a place this size is certainly not average in the Philippines.
About 2, possibly 3 years ago, the vacant lot next to us suddenly had a "building" on it.  The building, if you want to call it that, is basically nothing but some wood holding up some tin roofing material, open air.  People live in it.  It's kind of a shack, in the middle of some quite nice houses.  It is a single level place.  Our house is two levels, and I spend the vast majority of my time on the second level, where my office and bedroom are.  I have included a photo of the "house" as it can be seen from my office window, basically all you can see are the sheets of tin that make up a makeshift roof.  The place certainly doesn't fit in with the rest of the neighborhood, but that's how things are in the Philippines.  The people who live in this place are a little different.  They collect junk, it seems.  They have a big bin full of old glass bottles.  They have a huge pile of old scrap pieces of lumber.  I don't really know what goes on over there.
From our bedroom, if you open up the curtains on the side of the bedroom and look out the window, you are looking down into the "front yard" of this place.  Not much to look at, but really, we don't go look out that window much, and you would really have to walk right up to the window to be able to look down to ground level and see anything over there.
I have a daily routine, it's pretty much a set pattern of things I do, at least for part of the day.  I mean, as the day grows later, I tend to deviate, depending on what comes up that needs my attention.  But, the very beginning of my day is pretty set in stone, though.  I generally get up sort of early.  First thing I do is turn on my laptop, and while it is booting up, I go open up the curtains in my bedroom, and open the window.  The early morning air in Davao is usually crisp and cool.  Opening the window, I can usually be nice and cool in the bedroom until about 9am or so, at which time I head into my office (which is also in the house, by the way) and put on the air conditioning.
One day last week, I got up and my morning routine started off as normal.  I got up at 5:30am.  Made my way from bed, turned on my laptop.  While waiting for it to boot up, I went and opened the curtains.  It was early, not fully daylight out yet, but light enough outside to see pretty well.
When I opened the curtains, I didn't notice anything out of the ordinary.  I guess the light was dim enough that I didn't pick up on the details.  Next, though, I slid the window open, and it made some sound.  Suddenly, there was some quick movement outside my window.
I took a quick look to see what was going on, and there was a woman taking a shower outdoors, about twenty feet outside my window! She was naked, except a pair of shorts.  When she heard the window open, she jumped, realizing that somebody was there!  What a way to start the morning!
I mean, I never thought about it before, but this "shack" next door does not have an indoor shower!  The people shower right outside in the open!  Apparently this lady didn't figure that I would get up that early, or at least I would not open the window and look outside!  Based on her reaction, she was certainly surprised to see me!
Being a very neighborly person, I keep waiting for the neighbor to show up again for her daily shower.  I mean I have been watching regularly.  I figure I could at least wave to her and yell out the window – "Hi!"  But, no luck so far, I haven't seen her again since!
Ah, the joys of getting up early!  It gets your day off to a wonderful start!