NEW articles daily! Subscribe below to receive daily updates with our new articles!

This article was written some years back, but since today is Araw ng mga Patay, I thought I would re-publish it today, since the information is still very relevant and today is the day for this year.  This is a very important Philippine Cultural Event.
Today, November 1, was Araw ng mga Patay, a major holiday in the Philippines.  Literally translated, Araw ng mga Patay means "Day of the dead."  Additionally, November 1st is All Saints Day in the Catholic Church, which is all related to Araw ng mga Patay, or Day of the dead.  It is the day when the family members who have passed before us are remembered and honored.  But, Araw ng mga Patay is actually only half of the holiday.  The second day, November 2, is also a holiday.  November 2 is All Souls Day.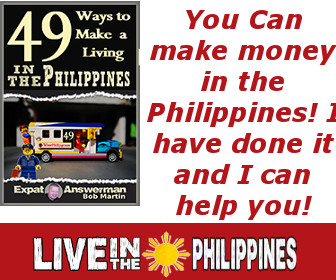 Another name for the two days combined celebration is called "Undas."  In previous years, although I have heard of Undas, I have never heard it widely used, at least in the area where I live.  This year, though, the name "Undas" is widely used.  I am not certain why, or for what reason the name of the celebration seems to have shifted more to being called Undas this year than it has in the past, but I have certainly noticed the shift.  Perhaps others will comment that they have (or have not) noticed such a shift this year as well.
As a westerner, the Undas season is the hardest thing for me to really understand when it comes to Philippine holidays.  While in many ways, Undas is very solemn, in some ways it is also festive!  You are supposed to remember your loved ones who have passed, and spend time at the Cemetery to show your love and honor of those who have died, yet at the Cemetery it is often a party type atmosphere!  People get drunk, dance and party wildly at the graveside!  People bring plenty of food and spirits to enjoy a lively Undas!  I find it very strange, and hard to understand.
For me, I am a Christian, but I believe that we can remember our lost loved ones any time that we choose to, just by thinking of them, or maybe saying a short prayer.  But, here, they go way beyond that during Araw ng mga Patay.  As I said earlier, food and spirits are brought to the cemetery.  And, do you know, a plate of food is even dished up for the dead person, and served at their grave!
Early this morning (Nov. 2), Feyma rode the bus to GenSan to be with her family for the All Soul's Day part of the celebration.  Feyma and her family (at least the part of the family that I know) have never been into the whole party scene at the graveside.  But, they will just be paying their respects to Papa, Mama and Feyma's siblings who have already passed.  Feyma will be gone just one day, and return tomorrow.  I planned to attend the event myself, but I still have some lingering effects from Dengue that cause me to get pretty worn out if I over-exert myself, so both Feyma and I decided it would be best for me to remain home this year.  Mostly, Feyma wanted to be there, though, because this is the first year since Mama passed, and she feels it is important to show her respects at this time.  I support her in that too.
Even after living here for a decade, though, I feel that I cannot fully understand Undas, or even grip a small portion of what it is all about.  It seems so different to me, and unlike anything that I experienced in the West.  November 1 and 2, also, are probably either the second or third biggest holidays of the year in the Philippines.  Easter (Holy Week) and Christmas being in the top three as well.  To be honest, among those three holidays, it would be hard for me to classify which of them is most important to Filipinos.  Holy Week and Undas are solemn (with spurts of festivity, as I've explained), while Christmas is more cheerful, to say the least.
Early November is certainly an interesting time in the Philippines.