NEW articles daily! Subscribe below to receive daily updates with our new articles!

As I reported here a few days ago, I recently took a trip to Zamboanga City, Tawi Tawi and Basilan. I want to tell you more today. Not about my trip or the places I went to, you can read that on my other blog. What I want to tell you about is that you can do a lot of great travel around the Philippines on a shoestring budget. A while back I reported about using the Philippines as a home base to explore other parts of Southeast Asia. Today, let's talk a little about domestic travel!
Let's look at my trip. I went with a couple friends, but my wife did not travel with me on this trip, so costs would have been even less per person if she had (hotel rooms can be shared, meals for two are generally cheaper than twice the cost of one, etc).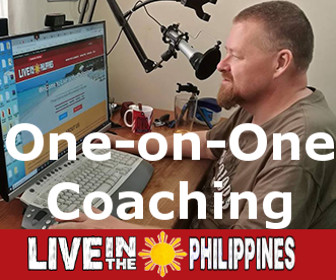 First, let's look at the cost of flying. I flew from Davao to Zamboanga City, which is about an hour flight. The cost of the round trip was P3,000 (about $60). So, $30 each way….. that's hard to beat! My next flight was from Zamboanga City to Tawi Tawi. Tawi Tawi is a remote area that does not have jumbo jets going to it daily. Actually, there is an 18 seat aircraft that flies in like three times per week or so. Those kind of small planes are generally more expensive to fly, since a small number of passengers are sharing the costs of flying the aircraft. The cost of my ticket to Tawi Tawi was about P4,000 for the round trip (about $40 each way). Not bad. So, for flying, I spent a total of $140 for two round trip flights. If I had been going to a more well traveled place, it would have been cheaper. Just look at the price if I had just gone for some fun in Zamboanga!
Other transportation? Well, I took a Fast Boat from Zamboanga City to Basilan and back. On the trip there, we used the tourist class service where we sat on the upper deck of the boat, on the outside. I wanted to take photos on the trip, and being inside the boat was not conducive to this. The cost of tourist class, one way trip to Basilan (about an hour or a little less)? P120, equivalant to about $2.50 or so. On the way back to Zamboanga from Basilan, I splurged! I bought first class tickets for me and my guide. The cost of first class is a bit shocking, but it was worth it. P130, equivalant to about $2.65 or so. Ha ha… I am so free with my money, traveling first class like that! 😉 Other transportation around Zamboanga City, Tawi Tawi and Basilan probably added up to less than $10 for the 6 day trip. This was mostly riding tricycles, jeeps and such. While in Tawi Tawi, I had a host who drove me around a lot too, but at the most I would have spent maybe $5 for transportation if my host had not taken me around. If you are in a big city with Taxi Cabs, you will spend a bit more, but still, $30 or $40 for a week worth of taxis is about all you would need.
Food. I had a couple of meals that were provided by friends, hosts, etc., but for the most part I paid for my own meals. I think that my total bill for food for 6 days was under $100. And, we ate some exotic and tasty foods too! We could have certainly eaten for less, if we wanted to. Could have spent a bit more too, but I'd say that the price I paid was a bit on the luxurious side, while not outlandish.
Accomodations. In Tawi Tawi, I stayed at somebody's house, so I did not have to pay for a hotel. I was there three days, and if I had gotten a hotel room, I would have paid about $60 for the 3 days ($20 per day) for a hotel room. In Zamboanga, we stayed at the nicest hotel in town (very nice) for about $40 per night for a total of $120 (3 night stays in Zamboanga City) . I did not stay overnight in Basilan.
So, for these costs:
Airfare: $140
Other Transportation: $10
Food: $100
Hotel Accomodations: $120
Total: $370
I did buy a few other things like some souvenirs and such, but things that are incidental, and not fully necessary for travel. My total out of pocket for the trip was about $400. Not bad for a 6 day adventure!
The thing I am driving at here is that for a small amount of money you can take trips all over the Philippines! Every region of the Philippines is very different, and you should see and experience as many different areas as you can! You never know what you'll find after that next flight!
Bon Voyage!