NEW articles daily! Subscribe below to receive daily updates with our new articles!

Recently, I was interviewed by Johnna Villaviray-Giolagon who works for a magazine here in the Philippines entitled "The Immigrant".  She had questions for me regarding my move to the Philippines, my life here, and other related topics.
The interview has now been published and can be read online.  However, the way that the website is set up, it is a bit difficult to read it, in my opinion, and also it is not possible for me to cut and paste parts of the interview and share it with my readers here on LiP.  Because of that, I want to share the e-mail that I sent to Ms. Villaviray-Giolagon when she did the interview.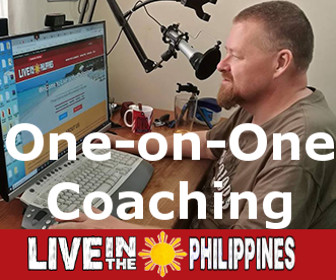 Basically, the interview was about people retiring in the Philippines, and also how the Philippines can attract more foreigners to retire in the country.  To read the interview, you can visit the article: PHL at Home.  The part of the article that refers to our interview is on page 2, in the first column.
Now, below is the e-mail with my answers to the questions that were asked of me:
Hi Johnna,
Thank you for offering me the opportunity to discuss this with you and share my opinions and experiences.
I first came to the Philippines in July of 1990, and during the 90's made 5 trips to the Philippines.  In May of 2000, my wife and I decided to relocate to the Philippines and settle here with our children.  My wife is Filipina, from General Santos City.  We have 3 boys and 2 girls.
Interesting that you are writing for "The Immigrant Philippines" as while I used to consider myself an expat here, I now prefer to call myself and think of myself as an immigrant.  I feel that the term "expat" has more of a temporary connotation, and also a connotation that the country where you are currently living is not really your home.  Your home is the place where you came from, and perhaps you intend to go back there again.  For me, I consider the Philippines my home.  I have lived here for more than 13 years, and have never returned to the United States during that time, I suspect that I will never return there again.  Thus, I consider myself to have immigrated to the Philippines.
What is the biggest draw bringing expats to the Philippines?  Well, I am going to be honest with you, even if it is an answer that I don't care for.  The answer is the ladies here.  A LOT of men come from overseas because they are here to chase women.  It is not my reason for being here, but it is the simple truth.  I have no problem with foreign men coming here and marrying, but just womanizing, well, it goes a little overboard.  The second biggest reason bringing expats here is the cost of living.  During the time that I have lived here, the cost of living in the Philippines has really skyrocketed, but it is still inexpensive compared to many other countries.
For me, cost of living was part of the reason I moved here.  Another big reason for my move was just wanting to get out and do something different.  I was a bit bored with life, and wanted to do something adventurous.  I also feel that the Philippines is a great place to raise my kids, given the family values that are part of Philippine Culture.
Biggest turn off?  For most expats that I talk to, there are a few big turn offs.  One is food.  Most expats feel that the quality of the food available here is poor, and they long for the availability of a higher quality and better variety of foods.  This is probably not a big problem for Manila, but out in the Provinces it can be pretty bad.  I live in Davao, and we have it fairly good here when it comes to the availability of quality food choices.  But, probably outside of Manila, Cebu and Davao, this can be a problem.  The other big problem that I hear about from most expats is that they often feel that many Filipinos try to take advantage of them financially.  I feel that this is a problem that can be dealt with if a person lives here longer and learns how to handle such situations.  I know that in the early years of my life here this could be a problem, but I really never run into such problems any more.
You mentioned the huge number of Filipinos wishing to leave the Philippines, go work abroad, etc.  Yes, that is something that kind of puzzles me.  I say that, because there is so much opportunity in the Philippines.  I found that by working hard, and thinking outside the box, I make a much better income here in the Philippines than I ever did when I lived in the States.  I know that many Filipinos can do it to, if they are willing to be a bit unconventional about it.
Why can't the Philippines move closer to the top spot of a retirement destination?  Well, there are a number of reasons.  Many foreigners, even myself to an extent, feel that we are treated a bit unfairly by the laws here.  One big issue is that a foreigner cannot purchase property here.  Back in our countries, Filipinos can own property and such, yet we are not allowed to do that here.  We cannot own many types of business here, this sort of thing.  Visa requirements are a bit unusual here, making it difficult for people to understand how they can retire here and stay here permanently.  Mostly it is these kinds of things that hold the Philippines back.  Another thing that is often mentioned among expats is that corruption here is difficult to deal with.  This is only my opinion, of course.
Thank you, and if you have any follow up questions, please just let me know.