NEW articles daily! Subscribe below to receive daily updates with our new articles!

(Three) Years have gone by and I found that once again my Philippine Drivers License was about to expire. Which only seems fitting as the Philippines, gave me my license in 1997 and I used a (Three years expired) Florida license to get my new Philippine one. I tried to renew my Florida license, but because I was over fifty I had to appear in person to take an eye exam. So flying from San Francisco to Florida on my dime, just to take an eye exam? I think not.
Get a California Drivers License? God forbid, Military Sealift Command was headquartered in San Francisco and California wants any excuse to charge high paid merchant marines their state income tax. My name went on nothing in that state, and even my mail forwarding was out of Pikes Place Fish Market in Seattle Washington just to be sure California couldn't get my money.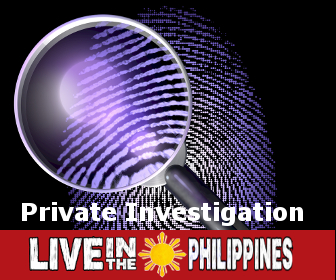 So now I can't rent a car, but the Bay Area has great public transportation, and I heard that Daily City, had Jeepney's and Trike's (If the joke escaped you, Google Daily City The old home of Baseball's Candlestick Park and learn about the Philippine capital of America)
I flew back to Olongapo, my wife who has never driven found out where the Land Transportation Office was (Driver License Division) if you need tags that were at different office across town. Go figure that!
I handed in my overly expired Florida License, not a word said, I assume it was a non-issue, Remember the year was 1997 so all paperwork was hand scribed, and as for a picture (I brought 3 each 2×2 photos.) which had to be sent to Manila and only there could they print out my official brandy new Philippine drivers license. I was given a receipt and told that it was good to drive on.
I flew back to San Francisco a few months later (Still no hard copy of my new license from Manila) At Budget car rental, I hand my OFFICAL RECEIPT to the Filipina clerk, and was in my rental and on the road within 10 minutes (No questioned were asked.). A few weeks later a lady ran a stop sign in Jack London Square in Oakland and t-boned that rental car, the investigating cop's folks were from Pampanga, and he understood the official receipt. The rental company kindly, (while I ate lunch) sent a truck with a new car and took away the broken one. No one was hurt. But the Californian lady did try to sue me, but had to deal with Budget's huge law firm, and the police report that said I was the victim. I really wasn't involved; but her lawyer wanted me to appear in court. I told him I was in the Persian Gulf and if he would send airfare, I'd be there. It never happened! Budget's crafty legal team crushed the malefactor with the bogus lawsuit. I should have fallen out of my car screaming; "Oh my neck!" But that would have kept me off my next ship. BTW in 1999 I finely received the hard copy of my license back from Manila which was soon to expire, and because of leaving for sea, I applied again (I just wanted another valid Official Receipt)
So Monday Morning we put it off until Tuesday and once more to Wednesday does it matter? But now on Thursday I'm off to the second deck of the PagAsa market on Gordon Ave. I've been informed that there is no more drug testing, but an eye exam is required, shades of Florida!
I went online and got a copy of the questions on the exam: A sample question from the Philippine drivers test:If the Jeepney driver ahead of you extends his left arm straight out, you are fairly sure that he is going to
a. Order a cigarette from the vendor standing in traffic
b. Turn left at the next intersection even if there is no road there
c. Pull off to the side of the road to stop and sleep for one hour
d. None of the above or all of the above?
In the sixties a famous singer from Boston (Sid Walsh) lost his left eye during the war (Yes the big one WW-II) The Massachusetts DMV had a two eye rule for riding motorcycles and Sid loved his 1947 Harley Knucklehead full dresser. During the eye exam he would take his left hand and cover his left eye, when they told him to switch he would take his right hand and cover his left eye. No problem with that silly rule! I can only hope I have fewer problems with my eye exam.
Thursday morning 0915 arrive at the LTO first I go to the Lord Jesus medical center, where they take my blood pressure 145×88, pay P-150.00 no eye exam required because I wear glasses. So if you are legally blind, just borrow a pair of glasses and you'll pass. Proceed to Windows 1 thru 5 of the LTO section, window #1 submit my old license and medical paper work. They hand me a small square with the number four on it. Next I'm called to window 3 for E-Photo and E signature (Window #2 was manned but no one ever went there, I said nothing as that was the man's Rice Bowl we are talking about. Return to seat, so far 11 minutes have gone by. Call by name to window 4 pay the fee. P-220.00 sit and in less than two minutes I'm called to window five where my receipt is issued and they explained my hard copy license will be made in Manila and check back the end of July. (Wow shades of 1997 all over again) So I walked away (With my brand new OFFICIAL RECEIPT) I was thinking how fast and efficient that whole process was, until I realized that the folks ahead of me were still sitting where they were when I started, then Mayang broke my bubble and explained that at age 69, I got senior citizen treatment, and I paid less, I never think of myself as getting old until moments like that. Oh, BTW I went back and turned in that little square card with the number 4 on it and never figured out why it had been given to me in the first place.
Mayang went in March 2015 to renew her license; she received her hard copy from Manila in February 2016, and now has two years on it before it expires.
Mayang took me to lunch at the Sit-N' Bull for a French Dip Roast Beef sandwich with Au-Jus and onion rings. I was parked back at home within a few hours of leaving the house. Tell me you have a problem with customer service here on this enchanted set of islands!!! I think not (If you're age 69). So Kindly refrain from Putting a Sharp Stick in My Eye, it is not required at all.