NEW articles daily! Subscribe below to receive daily updates with our new articles!

If you are a foreigner and you are going to live in the Philippines, security is something that you should keep on your mind.
I am not the type that constantly worries about my safety. I have lived in the Philippines for more than 17 years, and really I don't get too concerned about safety and security, the truth is that I feel very safe here. I have never experienced any kind of threat to my well being here, and I don't expect to. I feel pretty comfortable, frankly.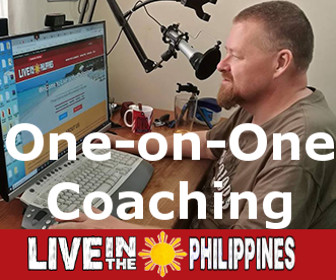 However, feeling comfortable does not mean that you should be cavalier about your security. One of the reasons that I don't worry much about my safety, and that I feel quite comfortable is because I have taken precautions which I feel minimize the risk of bad things happening. Now, don't take me wrong, there is still risk, but it is minimal, even though I am a very high profile foreign target. Because of my large web presence, and the fact that I live in Mindanao, I am probably a nice target for those who would wish to do me harm.
Mindanao is not the only target
Even though Mindanao has a very bad reputation when it comes to security, this is certainly not the only target in the Philippines. A lot of bad things happen on every island in the Philippines and can happen in any city. Kidnappings happen in Manila, in fact over the years Manila is the primary area where kidnappings happen in the Philippines, although most people would think otherwise. The main targets for kidnapping in Manila when it comes to kidnapping are very well off businessmen there. Also, most people of Chinese ancestry are targets as well. The children of these people are perhaps the ones with the biggest target on their back.
So, while Mindanao gets all of the bad press, it is certainly not the only place in the Philippines where your safety could be in danger.
What do I do to lessen risk?
As I said earlier, I am a pretty high profile foreigner here. When I have traveled around the country, it would be rare that I would go to a city anywhere in the Philippines and not have somebody know who I am. If I walk down the streets, a lot of times just "regular folks" will say "it's MindanaoBob". I am not trying to brag or anything, it is just a fact of life. It is because I have a large following on the Internet, and not only foreigners or those abroad.
Although I generally do not publicize it, there have been times when I have been contacted by the City or National governments to warn me of various threats that I should be aware of. I appreciate this, but it has also made me aware that I should take care of my security and take measures that would lessen any danger (although I don't feel the dangers are that high).
One thing which I do not do is "announce" publicly when I will travel or where I am going. I see a lot of foreigners give out very specific information about their travel, primarily on Facebook. They will come right out and say something like:
I am flying on Tuesday to Cebu on Cebu Pacific Airlines, flight xxx
Frankly it is crazy to announce something like that. If there is a bad guy who is looking to kidnap a foreigner, what great information for him to get ahold of! This gives him specific information where he can find the type of person he is targeting. I would not consider it bad to announce something like:
I'm going to take a trip on Tuesday, hope I have fun!
And, then, after returning home you can share pictures, post about your trip and stuff, because you are not announcing specific future plans. But announcing it in advance, especially with specific information only makes you a target for trouble.
Giving your home address
In the past, back when this website was young, I freely published not my exact address, but enough information where nearly anybody would be able to easily find my house.
Not only was this stupid and invited problems, but it actually did cause problems for me.
Believe it or not, the problems were not from Filipino bad guys either. No, I got serious security threats from other Americans living here. It got to the point where I had to bring in the PNP and give them the threats that I had received for them to evaluate and deal with the threats. It was not that I was threatened, but my children were threatened by these other foreigners. It was pretty scary.
You can bet that I no longer give out much information that would help people find where I live.
What kind of threats?
Although what most people worry about is kidnapping, there are other kind of threats or hassles you could face. One thing you might face, while probably not dangerous, is that a lot of beggars and poor folks might show up at your house and try to get money from you. If you think this is not much of a hassle, spend some time in the Philippines during November and December of any year. This is the time when people freely come and ask for their Christmas money at your gate. It is a huge hassle. You don't want to invite this kind of activity for the rest of the year.
If you don't tend to your security situation you may face any number of other problems ranging from mundane to extreme danger. Best thing you can do is to defend your personal information, be careful about who you share such information with (even sharing with foreigners can lead to problems), and generally don't give you trust to anybody who has not earned it and proven that they mean you no harm.
Enjoy the Philippines, but also protect yourself.