NEW articles daily! Subscribe below to receive daily updates with our new articles!

Lately, I have been posting on Facebook about my "Super Secret Project".  Maybe you saw it on FB, maybe you didn't.  But, today, I am going to let the cat out of the bag!
First, let me share with you what I posted on FB last Saturday, so you will get the message that I sent out: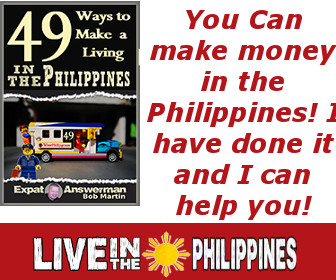 I am embarking on a super secret project this morning. It will require travel today to Tagum, Panabo and Digos. Top secret, I cannot share details YET. Maybe next week. It will make a lot of people happy. Maayong adlaw, mga amigo.
A lot of people were trying to guess what I was up to, and two people actually guessed correctly!  I did not tell them they were correct, though, because I could not reveal the information at that time. 🙂
Over many years now, I have been doing the LiP Christmas Giveaway.  Readers of this website would donate money, we would buy gifts of various types, and we would go and give out these gifts to poor people in different parts of Mindanao.  It was really a lot of fun.  Last year, though, I was notified by Paypal that I would no longer be able to accept donations for this Christmas Giveaway, because I am not officially a Non-Profit Organization (I never suggested that I was, just to be clear).  So, anyway, not being able to accept donations for the Christmas Drive pretty much put an end to it, and I was a bit sad that it would not be able to continue, because it brought a lot of joy to a lot of people over the years.
However, in early November, I was contacted by a company from Manila with a very interesting offer.  They were offering me a job!  Imagine, a job in the Philippines?  They sent me a message on the Internet, asking me if I would be willing to be Santa for a large Philippine company during the month of December!  They told me how much the pay was, and I was impressed, the pay they offered was really great.  I mean, the amount of pay was on par with what many US companies would be offering, which surprised me.
I have been offered to do Santa gigs here in the Philippines in the past, but I always said no.  This time, though, they asked me at just the right time, because I was kind of sad about not being able to do the LiP drive this year, and I accepted their offer!
The company that I am working for has a contract with Cherry Mobile, a Philippine Cellphone Manufacturer, quite a big company.  They have Santas in different areas around the Philippines, and I am the Santa for Davao City and generally around the Southern Mindanao Region.  At the time of this writing (Monday, Dec 1) we have visited 7 Malls.  On Saturday we went to Tagum City and Panabo.  Sunday we went to 4 different Malls in Davao City.  Today, Monday, is an off day, then tomorrow we will visit more Davao City Malls, and Wednesday we will be in Digos City.  This weekend, we will be going to General Santos, and in the following week we will have more visits in other Southern Mindanao locations!
To be honest, it has really been a LOT of fun!  I have been able to bring smiles to so many faces along the way, and it is very rewarding!  I hear a lot of people saying that I am the "real Santa" because they expect Santa to be white, and usually they only see Filipino Santas.  For me, the color is not a big deal, but it is here, because they see the Christmas shows and such, and Santa is always white, but they don't get that here.
One thing I found out on my first day of playing Santa is that a LOT of women here seem to have secret crushes on Santa Claus!  I have had so many incidents of having pictures with ladies who made it very obvious to me that they really liked Santa!  Thankfully, Feyma is not worried about that!
I also want to say that I have been working with a team of myself and 3 other people, and I am really enjoying each of them.  They are good folks.  The team consists of:
Karla.  Karla is the team leader.  Karla is very nice, and also does a good job of taking care of everything for us.  She goes first into the malls to arrange for permits that are required from the malls before we enter.  She lines everything up for us and takes care of whatever we need to do the job.
Merry Cris.  Merry Cris is playing a role called "Santa's Girl", she wears a sparkly dress and she is at my side was we go around the malls and at the Cherry Mobile store.  Merry also interacts with customers at Cherry Mobile. She also poses for a lot of pictures with mall customers as we walk around the mall.  I have gotten to know Merry Cris fairly well, as we spend a lot of time waiting in the van while everything is being lined up for us.  I like Merry a lot, she is a nice girl.
Edward. Edward drives us all around to the places we visit (sometimes several hours away from Davao).  We have a very nice van that we travel in, seems nearly brand new.  The aircon is so cold in the van that Santa shivers sometimes! 🙂
On two of the days out, my daughter, Jean, came along too, and she had fun as well.
I have to say, so far, although it is tiring and often a long day, I have really enjoyed doing this, and am very happy that I accepted the offer.  Seeing the smiles, especially the smiling children, really warms my heart and makes me happy!  At this point, I am even hoping that I will be able to do this again next year!
As a final word, I want everybody to know that I am setting up a new website – Santa in the Philippines – I will be featuring pictures and stories about my various Santa trips.  Give it a visit if you have an interest.
Merry Christmas, everybody!