NEW articles daily! Subscribe below to receive daily updates with our new articles!

The Philippines reminds of the Spanish Caribbean Islands, and South and Central America. Which has gotten me used to the Christmas Season Starting in September or as it is referred to here in the Philippines as the "BER" months? The stores that are not yet NIS (Not in Stock) will start to put up Christmas decorations this month and will start the Christmas music also. I know of two stores that all year has displayed 2016 Christmas candy and never marked it down, it is now ready to sell in 2017.
For my Mayang, I have collected over 45 albums of Christmas music, and I'll know when her Christmas begins by what she plays on the stereo downstairs, I have a ban Christmas music in the car.
In August she asked if I could download some more music for her this season, and yes, of course, I will I pay for it!!! Without explaining to her that there really was no more new Christmas music, just new singers, singing the same old songs. But she really doesn't care!
My brother Dan said Christmas doesn't start until after Thanksgiving. It was hard to explain to him that the rest of the world and here in the Philippines, don't celebrate America's Thanks Giving Holiday. That sent him going in circles and rapidly scratching his head and he's never been right since.
Mayang loves to decorate her house, but I have noticed that over our years together a number of lights have dwindled, the power bill still goes up by an extra P1, 000.00 every month during the BER season. Now you might ask, why are decorations her job, and am I exempt from doing it? Not true! Actually, it is true, when I was on ships, I would be gone in November, and if I did get home for Christmas I tried to get home after the 15th of December. It just worked out that way. But now that I'm retired, I know my brother-in-laws need money so I hire them to work with my wife and string the lights. Mayang will play her Christmas music every morning, but, no decorations or tree until after All Saints Day, Fiesta Patay (Tagalog) Dia de Todos los Santos (Spanish) Lá na Naomh Uile (Gaelic) or other languages that are all listed on Google.
To her that is when Christmas starts I do the hiring, she goes out to buy new lights. I will pay extra for UL tested lights as no matter how much you save buying "Market Junk Lights" it won't cover the cost of rebuilding your burning house on Christmas Eve.
But here is my confession, I really love the Christmas Season both here and Puerto Rico, America ruined it for me with "The Holiday Tree" they tried so hard in the past so not to offend others: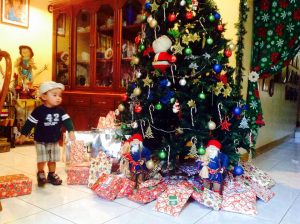 Hanukkah is a Jewish holiday at the same time of year, but a tree has nothing to do with it, they use a Menorah with eight candles. I grew up in Dorchester boarding a Jewish area and we had no problem respecting each other's special day.
Then there is Kwanzaa which was invented by Dr. Maulana Karenga, professor and chairman of Black Studies at California State University, Long Beach, and created Kwanzaa in 1966. It is unknown in Africa. (Also no tree is involved in this holiday)
So it is and will always be a Christmas Tree, and as long as I can it breathe air, it will always be that.
BTW; Our US President Mr. Trump, and Sir Bob Martin, both said I could use the Word Christmas! But if someone does not want to say Merry Christmas, try these;
Tagalog: Maligayang Pasko or Pasko Na.,
Spanish: Feliz Navidad
Gaelic:   Nollaig Shona (A language that the clergy doesn't know)
So let me try and be the first to wish you a very Merry Christmas, and if Christmas is not your holiday; Then I will wish you a Happy Holiday Season to you and your family. I left out Happy New Year out of respect for both the Hebrews and Chinese who have different New Year, then we followers of the Gregorian calendar.