NEW articles daily! Subscribe below to receive daily updates with our new articles!

Guide to Travel for Philippine Dual Citizens
As a dual citizen travel can seem complicated
Many who are dual citizens in the Philippines can find travel for Philippine Dual Citizens complicated. Do they need a visa? What if they overstay in the Philippines. The procedures are actually not complicated, and I am happy to share the things that I know on the topic.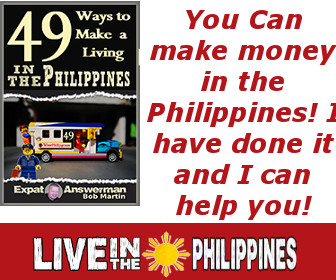 Exit Procedure for Philippine Dual Citizens
When the Philippine Dual Citizenship law went into effect (RA9225 – 2004) it made my wife, Feyma, and our children were eligible to become dual citizens.  Feyma became a US Citizen in the late 90's before we came to the Philippines. Each of our children was born as US Citizens in the United States.  When Philippine Citizenship became available to them without interfering with their US Citizenship, we decided to jump at the opportunity.
Our son's first trip abroad
Aaron, our second son, who has been writing on this site for a couple of years now, turned 18 last year, and he recently took off on a journey to the United States.  He will be spending at least 7 months there with his grandmother, and also taking a few trips to see the country of his birth, meet friends of the family, and generally learn about his American culture.  This trip brought up the topic of travel for Philippine dual citizens. Being a dual citizen presented a few obstacles in terms of leaving the country, so I thought I would write about that to help others in the same position.
In order to make travel easier, it was our hope and desire to obtain a Philippine Passport for him, in addition to his US Passport.  We felt that this would particularly make re-entering the Philippines easier for him, and help avoid being classified as a US Citizen upon entry and then having a visa to renew continually.  However, the process of getting a Philippine Passport became so burdensome that we decided to just forget about it, and travel on the US Passport only.
Certificate of Philippine Citizenship
When he became a dual citizen, he was issued a Certificate of Philippine Citizenship.  We found that if he traveled on his US Passport, but also carried that certificate with him, travel for Philippine Dual Citizens became easy. We found that the certificate would serve the same purpose of carrying a Philippine Passport.  When exiting the Philippines this certificate would help him to avoid any allegation of "overstaying" the visa in his US Passport, since a citizen is allowed to stay in the country as long as he wants to stay.  Then, when entering, presenting the certificate would show that he is a Philippine citizen, and help him get the proper classification upon entry.  Recently, when Aaron departed for the USA, he presented his US Passport and the Citizenship Certificate, and it went very smoothly, just as it should.
One problem that we anticipated was that Aaron's original US Passport had his entry stamp.  He is now on his 3rd US Passport since entering the Philippines, so the entry stamp was not in his current passport.  At his exit, he simply presented all three of his US Passports, to show the entry stamp and the continuation of passports, and there were no questions asked, it was not a problem at all. Travel for Philippine dual citizens was proving to be quite easy.
Aaron's Exit from the Philippines
When exiting, since Aaron is a Philippine Citizen and a US Citizen, he was liable for paying the Philippine Travel Tax of P1,620.  Even considering Travel for Philippine Dual Citizens, it is a requirement. The tax is a bit higher if you are traveling first class, but Aaron was traveling coach.  This tax is required of all Philippine Citizens who are leaving the country, and also of Dual Citizens.  It also applies to all holders of the 13 Series Resident Visas.  Additionally, foreigners who have been in the country for more than 1 year must pay the travel tax.
So, that is the procedure for leaving the country if you are a dual citizen, it is very easy.  The Immigration personnel at NAIA were very familiar with this and handled it professionally and without question.
Re-entry to the Philippines for Travel for Philippine Dual Citizens
Now, when it is time to come back to the Philippines, it is pretty much exactly the same.  Aaron will enter the Immigration area and present his US Passport and the Philippine Citizenship Certificate.  When he presents these, his US Passport will be stamped and the Certificate number will also be entered into his US Passport.  He will then be able to stay in the country for as long as he wishes, no need to go to the Bureau of Immigration, no Visa fees, no extensions, nothing. The immigration officers at NAIA understand the process for travel for Philippine Dual Citizens well, they can take care of you without issues.
Another benefit for him is that when he returns to the country later this year his new passport will be stamped, and thus he will not have the need to carry those old passports any longer, to show his entry stamp, since there will be a new entry stamp.
Another thing to keep in mind regarding travel for Philippine Dual Citizens is that they are also required to pay an ECC Fee (Emigration Clearance Certificate). The fee is P710.  They do not need to go to the Bureau of Immigration and apply for an ECC. They only have to pay the P710 at the airport when leaving.  For some reason, they did not ask Aaron to pay this fee, so he got to save a bit of money! 🙂
Question from a reader about travel for Philippine Dual Citizens
A while back I got a question from Airhee in regards to travel for Philippine Dual Citizens.
Here's what Airhee had to say:
Hi Bob, I saw that you were helping all these people out with their questions. I was hoping you could help me with mine as well. I came here to the Philippines around Jan 2010. I wanted to start my studies here (I'm a U.S. citizen). Around March 2010 I applied for the R.A. 9225 to make enrolling easier. I went through the whole process and oath taking. I have my certificate and everything, so that technically makes me a dual citizen now right? Now my real question is, the studies here didn't go so well. I would like to go back to the U.S. soon… will I have any problems with leaving the country if I entered here with my U.S. passport? Thanks for your time, I hope you'll be able to help!
And, here is my response to Airhee:
Hi Airhee,
No, you will have no problems leaving. Travel for Philippine Dual Citizens is actually quite easy these days. There will be no fees or penalties for overstaying.
What you will need to do is to present your Dual Citizenship Certificate. Dual Citizen travelers should also present your foreign passport when leaving, and any overstaying penalties will be waived automatically.
My children are Dual Citizens. They have always used their Dual Citizenship certificate for this purpose. They have never experienced any problems. The people at immigration are very used to dealing with travel for Philippine Dual Citizens, it is so common these days.
Good luck to you and have a good trip back to the USA.
I hope this was helpful information about travel for Philippine Dual Citizens
Hopefully, this information is helpful for other Dual Citizens traveling in and out of the Philippines.  I know that it was difficult for us to gather all of the information ahead of Aaron's departure. There was a bit of "nail-biting" while waiting for Aaron to clear Immigration when leaving the airport!  I was happy that it all worked out, though, and it confirmed what we expected to happen.