NEW articles daily! Subscribe below to receive daily updates with our new articles!

Earlier this week, Jay Stainback submitted an article for publication here on LiP, entitles "Have gun will travel… just not in the Philippines". It is a good article and generated lots of response.
Over my years of my living in the Philippines, 18 years and counting… There are two issues which generate a lot of rancor and discussion among expats living in the Philippines: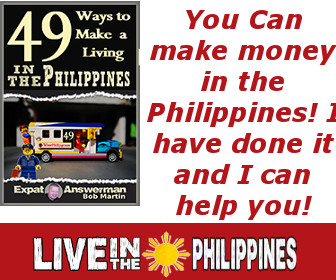 Ownership of firearms. Mostly Americans get upset about the inability of foreigners to own firearms. The USA is a country where firearms are legal for private citizens to own, and most Americans feel that it is their right to bear arms. It is their right… in the USA. But, if you decide to move to the Philippines you no longer have that right. Your rights do not travel with you when you leave the USA.
Land ownership. This article is not about land ownership, but I just wanted to mention it because these are the two topics that are always a hotbed for expats.
Let's talk about guns
I have always been a strong proponent of the 2nd Amendment in the US Constitution, which gives American Citizens the right to keep and bear arms. When I lived in the USA, I owned guns, and I used them. I owned two guns at the time I left the country to move to the Philippines:
12 Guage Shotgun
357 Magnum Revolver
I mostly did target practice, and some hunting (very little). Shot some skeet a few times. I never had a problem with private individuals owning firearms provided they did it legally. Some people cannot legally own firearms, such as ex-cons, mentally ill people, etc. This is, in my view, as it should be.
When we decided to move to the Philippines it was hard for me to give up my guns. In fact, I held onto them until the very last day just before I went to the airport. I could not decide what to do with the firearms and just held on. On that last day, my brother was there to see us off, and I handed him the guns and asked if he would like to have them. He said, yes, so I told him "Merry Christmas" or something like that. As far as I know, he still has the guns.
I understood that in the Philippines, I could not legally own firearms, and I accepted that. I decided that I had more of a desire to live in the Philippines than to own guns. So, I gave up my guns.
The Consequences
A thing I hear often from foreigners and was expressed in the comment discussion from Jay's article was that in the event of a threat against his family, the foreigner says "I would protect my family and accept the consequences".
While I understand this feeling, I am not so sure that it is the right way to think.
I mean, a lot of the people who say this are not yet living in the Philippines. In my opinion, if you are not yet living in the Philippines, you have the opportunity to learn what the laws are before making the decision about moving. Most people who read this site already know that a foreigner cannot legally own firearms in the Philippines. So, while you are sitting in your home country and considering a move to the Philippines, you can (should) say to yourself:
I understand that I cannot legally own a firearm, am I willing to live under that law?
If you find that you are not willing to obey the law, in my view, you should just decide to remain where you currently live and are comfortable with the laws. To decide to move to the Philippines with the intention of not following the law of the Philippines is, in my opinion, not the right thing to do.
Like I say, I am an advocate of gun rights. But, I understand the law here and I am willing to give up my ability/right to bear arms as part of living here. I don't feel and have never experienced, a real threat here. But, bad things can happen anywhere, I accept that.
Anyway, these are my thoughts on the topic.