NEW articles daily! Subscribe below to receive daily updates with our new articles!

Here in the Philippines, names are not used much of the time when addressing people.  Or, if a name is used, it will often have a "prefix" code word affixed ahead of it.  As an example, our Vice Mayor here in Davao City is Sara Duterte, the daughter of Mayor Rodrigo Duterte.  But, people don't call her "Sara" or "Vice Mayor Duterte."  No, she is most commonly known as "Inday Sara" to the people.  This is just an example of how a "code name" is used with people.  But, the problem for us foreigners is… how do we know what "code name" to use with different people?  Well, you can never know for sure, except by hearing what others are calling a certain person.  But, this article is meant as a sort of guide of what kinds of things you might expect to call people.  The names in this article are sort of the "standard" names that are used in most cases, but they are not universal, just the most common.  Also, keep in mind that while some of these names may apply in various parts of the country, these names are the names commonly used in Bisaya areas of the Philippines, in other words in the Visayas Region and Mindanao.  Names in other regions may be the same, or may differ.
So, what do I call them?
A younger lady is often called "Inday" or just "Day" for short.  You pronounce that like "IN – DIE" or the short version would be pronounced "DIE".  This name is mainly used as a term used for a younger sister in most cases, but the use has expanded, and is now used for any younger girl.  It is not used for any woman older than yourself, unless that is really their name (which does happen sometimes).  When you go somewhere and you see a young lady, or even a young girl, if you do not know her name, it is perfectly acceptable to just call her "Day" or "Inday" when you want to talk to her.  It is, after all, used as a term of endearment.  I have been told that up in Manila, the term "Day" can have a slightly negative connotation, in that it is a Bisayan term, and the people up north sometimes equate it with a lady being a maid.  However, I don't know for sure how accurate that is today.  Within the family, Feyma has always been called "Inday" because she is the youngest girl in the family.  Even some of our younger nieces and nephews call her "Day" or "Inday" because the name is so strongly connected with Feyma within the family.  Alternatively, if you want to use a less endearing, slightly politer form of address for a young lady, you can also call her "Miss," but "Day" is much more widely used.  It is a term that I use all the time myself.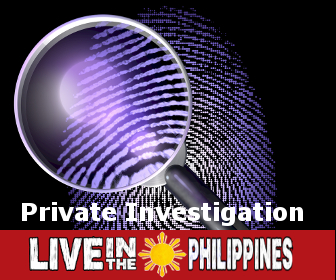 A young man, younger than yourself can appropriately be addressed as "Dong" or "Dodong."  This is very similar to the use of the term "Day" except it is used for a male instead of a female.  The term "Dong" is again a term of endearment, often reserved for a younger brother, cousin or nephew.  However, it is also appropriate to use the term "Dong" for any male that is younger than you, if you do not know their name.  For example, if you are in a restaurant, or a store, and you want to address a clerk or waiter, giving a little shout… "Dong…" is perfectly acceptable and appropriate in addressing a male member of the staff.  Many of my nephews are always called Dodong.  Also, just like with the term "Day," if the male is older than you are,  you should never call him "Dodong" or "Dong" unless that really is his name, or a nickname that he is called.  If it is just a matter of not knowing his name and he is your age or older, do not call him "Dong" that would be disrespectful.
If you are going to address an older lady you can call her Manang, particularly if she is quite senior to you in age.  Manang is a term for an older lady and a way to show respect to such a lady.  If you are not sure of the lady's age, do not call her Manang if she may be younger than you are, as that would be an insult to her.  If it is an older male that you are addressing, the term is similar, just changing one letter – Manong.  Again, never call a man younger than you Manong, as that would be an insult to him.  Be sure to be clear in pronouncing these two – Manang or Manong – emphasize that last vowel – ong or aaang.  You don't want to call a lady Manong, or a man Manang, that would be disrespectful to do.  By using these terms, if you do not know their names, you are showing respect for the person.  If you do know their names, you can still show respect by attaching this prefix to the name.  For example, let's say there is a man named "Rey" and you respect him, you would call him "Manong Rey" to show both respect, and a certain familiarity.  Same would be the case by using something like "Manang Shirley."  By the way, a way of using these terms, but also making them slightly less formal and more endearing is shortening them to either "Nong" or "Nang."
Now, if you have a person who is close to you, but slightly older than you are (maybe within 10 years or less, I'd say) there are different names for them.  For the male, you would call them "Kuya."  You can just say "Kuya" or you could call him "Kuya Rey."  If it is a lady that we are talking about, who is a bit older than you are, instead of Kuya, you would call her "Ate" (pronounced Ah-tee).  You can call her just "Ate" or you can say "Ate Bebe" for example.  So, to keep it friendly, but still give a bit of respect, Kuya or Ate are very appropriate.  Again, do not use the terms "Ate" or "Kuya" if the person is younger than you are, it would again be insulting to do so.
How about a friend?  Well, there are a number of terms you can use.  If you are a male, and you have a male friend of a similar age range to yourself, you can call him "Bay" which is pronounced "Buy" (like you are going to buy something).  Now, keep in mind, this term is used only among males. If you are female, you would not use the term Bay, or if you have a female friend, you would not call her Bay.  Another term you can call a male friend (whether you are male or female) is Amigo or just migo.  If you have a female friend, you can call her Amiga or miga.  All of these are very common.  Remember, though, among male friends, a term showing a very close friendship is Bay!  If you call somebody bay, he will know that you really consider him a good friend.
A term that as a foreigner we probably will not use, but many Filipinos use is "Bossing."  A term of endearment for a boss or employer is Bossing.  A head of household would also be called Bossing.  If you are a foreigner, plenty of Filipinos might call you Bossing, although in practice, I doubt you will call many people Bossing, I know that I never personally use the term.
Finally, let's look at a few terms that can get very complicated, and indicate a more familial relationship.  I am relating to the Kumpadre system, which is part of the whole SIR system of the Philippine society.  Through marriage or godparenting, you gain familial relationships with others through this Kumpadre system.  For example, last year I served as a Godparent for Cedric, the son of Cathy and Milper (LiP readers!) who live in GenSan.  Now, because of the fact that I am Cedric's "Ninong," Cathy is my Kumare (or also just called Mare) and Milper is my Kumpare (also just called Pare).  It is a sort of loose family connection that we have now.  We are more than just friends, we are family now because of our connection through their son, Cedric.  In addition, the other people who served as Godparents, for example, Carol, is also connected with me.  Carol is my Kumare as well, because we are both Godparents to Cedric.  This Kumpare relationship can keep expanding too.  When Cedric is old enough to marry it is possible that I would play some role in his wedding, further widening my Kumpare relationship with others that also serve as Godparents in the wedding.  It can create quite a large circle of family.  So, anyway, whenever I see Cathy or Carol, it would be perfectly normal for me to address either of them as "Mare" (pronounced like Mar-aye) or for me to address Milper as Pare (Par-aye).  We are family after all, right Mare Cathy?
Anyway, I hope that this look at "what you should call them" has been enlightening and helpful to you.  This is real life stuff, not some classroom things.  These are names that you will use everyday if you live in the Philippines or just come for a visit.
A while back, when I talked about the possibility that LiP may introduce a Premium Subscription service, some people asked me to give examples of what Premium articles would be like.  This article, for example, would be an article reserved for Premium Subscribers, should I elect to go in such a direction in the future.  I believe that this article contains information that is useful for anybody who chooses to live in or visit the Philippines.