NEW articles daily! Subscribe below to receive daily updates with our new articles!

Sorry McDonald's
You've been replaced
For years, probably decades expats around the world have called McDonald's the "Unofficial US Embassy".  Why did they consider McDonald's the Unofficial US Embassy? Because it was the place where you would find a lot of Americans. No matter what country you were in around the world if there was a McDonald's that is where Americans would hang out. if you were a visiting American in any country, if you went to McDonald's, you could probably find some local American Expats hanging out there. Is McDonald's still the "unofficial US Embassy?" Sorry, McDonald's, but I don't think you are any longer.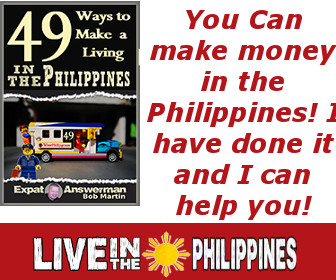 Where is the new Unofficial US Embassy?
To me, that is pretty obvious. The new Unofficial US Embassy is Starbucks. Almost every time I meet with Americans who are visiting here, which is most days every week, they usually want to meet at Starbucks. There are three Starbucks locations in Davao City. Must be hundreds of them around the Philippines. Don't get me wrong, there are many, many more locations for McDonald's than Starbucks. I think, though, that, at least in the Philippines, Starbucks is more closely identified as "American" than is McDonald's.
The Philippines has, over the years, really become a fast food culture, pretty much just like the USA. So, McDonald's is just another fast food place, not really an American place.
Most Americans don't really hang out at McDonald's
To be considered to be the "Unofficial US Embassy" the place kind of needs to be a hangout where Americans spend time. It needs to be a place where groups of Americans meet, where they get together to "shoot the bull." There was a time when that was McDonald's, but it just is not anymore.  Frankly, in the USA, and the rest of the world, McDonald's has actually lost a lot of popularity.  Most consider the food to be both poor and unhealthy, so they don't tend to hang out there.
Starbucks is the cool place
Starbucks has kind of become the trendy, cool place now. To be honest, I don't like Starbucks, I think their coffee is pretty bad. That is my taste though. I suppose a lot of people like it, otherwise, it would not be packed full of people every day. And, it is always packed. At most of the Starbucks locations in Davao, it is difficult to even find a seat.
A lot of informal American Expat groups that I know of in Davao used to meet at McDonald's. Now, I know of none that do. Where do that meet? Well, where do you think? Starbucks, of course. So, if you are looking to find some Americans to hang out with, Starbucks is the only place you need to look.
Filipinos also like to hang out at Starbucks
Based on what I have written here, don't think that Starbucks is full of only Americans. No, Filipinos like to hang out there too. American stuff is considered cool here, at least by most local folks.
How about Passport Renewals?
Haha, well so far you can't renew your passport at Starbucks, or even McDonald's. Nope. That is why they are or were the Unofficial US Embassy, Not Official. Who knows, though, maybe someday! It would probably be more efficient than anything actually run by the government.
So, are you coming to Davao? Want to get together with me?
Should we meet up at the Embassy? Which branch?