NEW articles daily! Subscribe below to receive daily updates with our new articles!

A short time back, Philip called me and asked if his cellular phone would work in the Philippines.
He told me that his network carrier in the United States is AT&T, and wondered if the phone would work in the Philippines.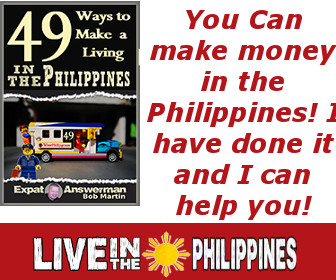 Now, I am unsure. Does Philip mean will the phone itself work? In other words, can he put a local (Globe, Smart, etc) SIM in the phone and use it locally? Or, does he mean can he use the phone still on AT&T and can he roam on Philippine Networks? Well, it is hard to know exactly which of those he was asking, so I answered both questions in my video.
These days almost everybody has and uses a Celular Phone (well, except for Steve, he wrote a while back saying that he does not use a Cellphone!) This is a question I hear a lot from those who will be traveling to the Philippines, so it is good that Philip called in with this question, because I am sure a lot of people are wondering.
For my monologue this week, I have a surprise. Some information that many people will not be expecting. Listen in and find out what this is all about.
Can I use my Cellphone?
I hope this helps answer a question that a lot of people are always wondering about.
Do You Have a Question?
If you want to send a question for inclusion in a future Podcast, just use the app below, click on the button below, where it says "Start Recording".
Questions submitted by email will no longer be answered, you must submit through the voice message above.
Thanks again for watching, everybody!