NEW articles daily! Subscribe below to receive daily updates with our new articles!

Funny thing, less than 2 weeks ago I wrote an article about Personal Safety for Expats. Just a week later (last week) we had a serious security incident at our home.
I would not really say that the incident was "expat" related, rather it was something that could happen regardless of where the person was from, a Filipino, foreigner or whoever.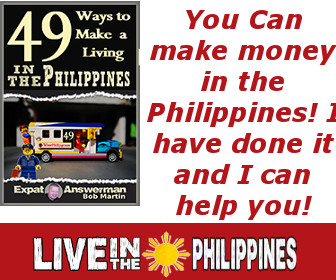 Just a few days after my Personal Safety article came out, here is what happened. Just a few days after that article came out, one afternoon around 3 PM or so, a man, about 58 years old, climbed over our gate, (which is 6 feet high), and entered our yard. He then came up to the front porch and tried to enter the house. He was confronted before he could enter the house, and was not able to enter, although that was his intention.
Davao Police
The Davao City Police were called (911) and they responded immediately. Just up the street from our house there is a high profile residence which gets, more or less, 24/7 Police Security. This is only a block and a half away or so. Because the police were so nearby, they were at our house in minutes.
They arrested the intruder and took him to jail. After that the police officers spoke with me. I have always felt that the Davao City Police were very professional and effective in their jobs and this case was no exception. They informed me of everything they could find out about the offender and presented me with my options.
Probably the most important thing they presented to me was that the guy was "buang" or "Crazy". He had done something like this at another house in our neighborhood and it seems he was only looking for a place to go inside and get some sleep. Well, Mr. Buang, please go elsewhere next time.
My options
The police presented me with two options:
Press Charges against him for illegally entering our property.
Do not press charges.
If I were to press charges he would remain in jail and we would have to weave our way through a complicated court system.
If I did not press charges he would remain in jail overnight, and then the next day he would be taken out of town to his home province, which is about 3 hours away.
Firstly, I really did not want the hassle of the court proceedings.
Secondly, I felt that since he had a mental disorder, ti was probably best to just be happy that he did not do any harm, and let him go on with his life.
So, I decided (after discussion with my family members) to not pursue charges against him.
If I had only known
Later, I found out some other information on the man. Apparently he had killed his mother! If I had known this information earlier it would have been a tougher decision to make in regards to pressing charges. But, in the end I, and the rest of my family are still happy with the decision that we made.
Tightened Home Security
As I described in my previous article, I had already taken steps to tighten our personal and home security over the past few years. But, this incident was a real shock, and we have taken additional steps.
For on thing, we have purchased lighting that will really flood the outside area of our house, with motion sensing technology that will activate the lighting when motion is detected. I feel this is an excellent preventative measure.
We have also gotten a second dog, this one more security trained, and this should be very helpful.
I don't really see what we could have done to really prevent this invasion. It could have been done no matter what. We keep our gates locked but this guy climbed the gate. I feel that the latest changes we have made and are making would slow him down a bit, though.
Anyway, be careful out there!