NEW articles daily! Subscribe below to receive daily updates with our new articles!

This article has been updated for changes in policy for 2017. The updates appear at the bottom of the article.
When you decide to live in the Philippines, you need to get some sort of visa that will allow you to live here. In my opinion, for those who qualify, a Resident Visa is the best way to go!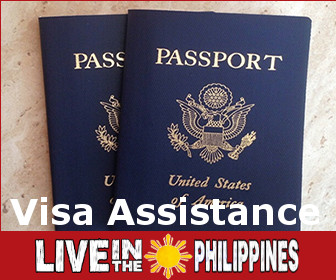 So, you ask… how do you qualify? Actually, it's quite simple. If your spouse is a Philippine Citizen, or a former Citizen of the Philippines, you can qualify. You will need to fill out an application, take some medical tests, get police clearances and such, then send it all in to the Philippine Embassy or Consulate in your area. Generally, it takes only a week or two for your visa to be approved, and then you have six months to enter the Philippines, and live here for good! No need to leave the country from time to time, no need to go to the Immigration office ever 2 months, etc.
In addition to applying for the visa in your home country, you can also apply after you arrive in the Philippines, but I would strongly recommend that you do the application before coming to the Philippines. Doing it here involves a lot of hassles, extra paperwork, takes months to process, and will probably require some extra money on this end. Take my advice… do it at home!
When you apply for your resident visa, if your spouse is a Philippine Citizen you will be applying for a 13(a) visa. If your spouse is a former Citizen you will be applying for a 13(g) visa. With either of these visas you are also allowed to work in the Philippines!
The only requirement is that once per year (in January/February) you are required to check-in at the Bureau of Immigration office.
2017 Updates
No Longer Living Together?
As I mentioned earlier in this article, your ability to get a Resident Visa (13 Series) is based on being Married to a Philippine Citizen (13A) or a former Philippine Citizen (13G). Over the past few years, the Bureau of Immigration (BI) has started cracking down on this. In the past, even if you had an annulment or divorce, they did not revoke your 13 Series Resident Visa. But, for the past few years, more and more, the BI has started revoking resident visas for those who are no longer married. Furthermore, it has even come to the point that if you are still married, but separated, no longer living together, your Resident Visa will be revoked! If the BI finds out that you are no longer together with your spouse, they are revoking 100% of those resident visas.
So, how will they find out? Well, they are asking this question now. When you go to do your annual report (you must go to the Bureau of Immigration every year – in January or February – to report and pay a "head tax" of P310. Much of the time, when you do your annual report now, or have other business with the BI, they will ask you if you are still married and living with your wife.
Guam Divorce
Something that happens fairly commonly here is that expats will go to Guam and file a divorce case. It is very easy and quick to establish residence in Guam if you are American, so if you go there for a week or 10 days, you can come back home to the Philippines with a divorce in progress, and it can be completed very quickly. The BI officials at the airport know about this, and it is very common now that if they see a 13 Series Visa holder returning from Guam they will ask if you are getting a divorce in Guam, and if you are, they will revoke your Resident Visa. You can still enter on a tourist visa, but your 13 Series Resident Visa will go bye-bye.
So, this is the new state of Resident Visas in the Philippines. Be forewarned.