NEW articles daily! Subscribe below to receive daily updates with our new articles!

In many ways, the society of the Philippines is quite formal, and if you want to blend in and really be accepted by Filipinos, it is best for you to pick up on some of the more formal habits of Filipinos. Don't take me wrong, Filipinos don't expect you, as a foreigner, to totally become Filipino in the way you think and act, but the more you can adopt cultural norms here, the more accepted you will be. Filipinos know that the ways of foreigners are different than Filipino ways, and they understand that. Sometimes, I have no doubt that they look at our ways and think we are a little strange, but heck, we do the same, so it's only fair!
The thing I was thinking about today, which I think we should talk about a bit is names, and how you should address people. You know, where I come from, back in the USA, the norms of society have become very relaxed and casual. In most cases, we address each other by first name. In most of the places where I worked while still living in the USA, we even addressed our bosses by their first name. Our boss, "Jim Smith" would just be "Jim" if we were talking. I remember the day when you would always call your boss "Mr. Smith," but I feel that those days are gone, for the most part. If you are addressing a very high ranking executive you may use the term "Mr." but even that is not always necessary.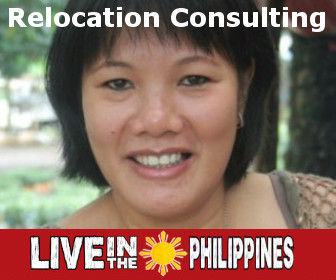 Here in the Philippines it is different. People on different levels of the hierarchy rarely (if ever) call each other by first name. Even "Mr." would be considered casual at times. Your superior would usually be called "Sir." For instance, most of my employees call me "Sir Bob." Even people whom I consider to be good friends call me "Sir Bob" in many instances, especially if they are younger than I am. Feyma is regularly addressed as "Ma'am" or "Madam" by employees and younger people.
For almost any kind of professional type job, the job title is usually affixed to the name. For instance, if Jorge is a lawyer, you would address him at "Attorney Jorje." I have even seen friends address each other with titles like this. Even if they are out playing golf or something casual like that, the title will be affixed to the name. It's a sign of respect for the education that they had to achieve in order to enter the profession that they work in.
School teachers are called "Teacher Susan," of course, you should insert whatever the name is, but put "Teacher" in front of it. If a guy is a graduate of Engineering, he is "Engineer Roel" or whatever his first name is. To just call him "Roel" would be considered somewhat insulting!
For me, this is all too formal, and often makes me feel uncomfortable. Since I've been living here for so long, I have become used to it, although I still prefer a little less formality. As I said earlier, I have people that are not business associates, but rather personal friends who call me "Sir Bob," and that makes me somewhat uncomfortable. It used to make me very uncomfortable. Honestly, though, I think I'd now be a little uncomfortable if they didn't add the "Sir." I guess I am somewhere in the middle of accepting it and still fighting it a bit, so I am a little uncomfortable either way! I guess that for those who start out calling me "Bob" when they first meet me, I am very comfortable with that, it would be uncomfortable if they changed and started adding the Sir. And the opposite is also true.
What do you think? Do western countries need to get a little more formal? Does the Philippines need to get a little more casual? I'd like to hear your opinion.