NEW articles daily! Subscribe below to receive daily updates with our new articles!

Last week we went to Tupi, South Cotabato for a business meeting. The trip from Davao to General Santos City took 4+ hours. The usual travel is supposed to be only takes 3 hours or a little over in the bus. Why it's taking a long time this time is due to the road construction on the way there. Heard so many people complain about it in the bus. I just smiled upon hearing the comments. Some people said "constructions again because it's election time so tiring". Why can't they fix the road even if it's not election time? Even around the cities all over the Philippines you will see construction going on.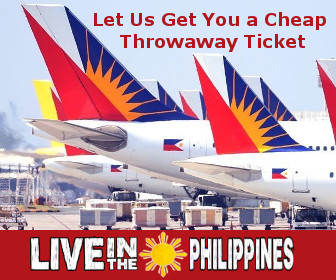 It's almost election time here in the Philippines which means road construction time or other people call it "road destruction time" here. LoL. Have to laugh when I hear people say that. I can't blame them for saying that, because it really looks that the politicians here will do something when its almost election time. Have you noticed it when you take vacation here during election time?
On the way from Davao to GenSan there might be over a half a dozen road construction jobs on the way there. With the construction and the check point the delays were endless. The good thing we had a good and comfy bus that goes on that route. When we first arrived here, Bob did the driving for every trip we made. He knows all of the delays with all the constructions here. Nowadays we use the public transportation whenever we go. Bob likes it because he can now enjoy the scenery and he is busy surfing the net. LoL
With the bus you have good choice either with air-conditioning bus or bus with air-conditioning and Wifi or the latest one with air-conditioning, Wifi and bathroom. We also have the bus with so many stops (called Deluxe bus), one stop or the non-stop. We tried all those buses already. Sometimes the Wifi is really slow. For us we're okay with the only air-con bus. The price ranges from Php190 -Php300. I'm not sure how much is the fare for the deluxe bus. I haven't been on that bus since grade school. No air-conditioning bus yet at that time.
Another election mess is the brownout. Geez, we've been experiencing brownout right now for weeks already. They promised for only 10 days. Ain't happening that way though. It's really annoying and totally we are pissed. Actually not just my household. We don't know the reason behind the brownout for weeks. It could be months again. If talking about brownout people here will always say because it's almost election time. It's really damaging to a lot of the businesses here. The complaints are endless.
Generators are a hot items here right now. Not just the business owners buy generator, even the regular homeowners. We are even thinking of getting one if this brownout will continue for weeks on end. Honestly it might be a wise move for the business owners here to get one. Our helpers tried to buy candles at one of the mall that was close to our house. The malls were out of those big candles that are good for brownouts. People now are stocking I think at their house, I know we are. 🙂
Have a good one everyone!