NEW articles daily! Subscribe below to receive daily updates with our new articles!

The 13G Visa
13G is another Residency Option in the Philippines
I have a 13G Visa.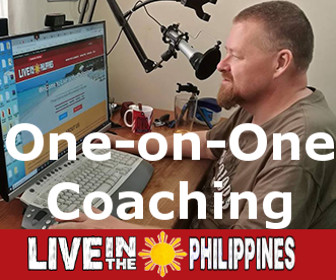 A 13G Visa is a Philippine Visa that allows for permanent residence in the Philippines. It is for a Former Philippine Citizen. It also is for the spouse and minor children of a former Citizen of the Philippines.
At the time that we moved to the Philippines (May 2000), Feyma was already a US Citizen. Because of that, I did not qualify for a 13A.
Dual Citizenship
In those days, Dual Citizenship was not available in the Philippines.  A law was passed since we lived here, though, that allows a former Philippine Citizen to re-acquire Philippine Citizenship and thus become a Dual Citizen.  Since that law became active, Feyma has since become a Dual Citizen, our Children are all Dual Citizens, and I remain the sole "foreigner" in the house and still hold a 13G Visa.
Ian asked me some questions about 13G Visa
Recently, I got an e-mail from Ian asking about getting a 13G, and also some of the aftermaths of getting such a 13G visa so that he could retire in the Philippines.  In today's Podcast, I address Ian's questions about the 13G Visa and share some of my experiences in getting a 13G Visa.
13G Visa is identical to 13A in terms of benefits
All of the information in this podcast also applies to a 13A Visa as well, in case anybody who listens it will also be seeking a 13A instead of the 13G. The application process and the benefits of a 13G Visa are exactly the same as for a 13A Visa. The only difference between the two is that one is for the spouse and minor children of a Philippine Citizen (13A) and the other is for the spouse and minor children of a Former Philippine Citizen (13G).
Don't know how to listen to a Podcast?
By the way, a week or so ago, I got a comment from a fellow named Ed.  Ed seemed a little upset that he can't listen to the Podcast since he does not use iTunes.  Guess what.. you don't have to use iTunes to listen to the Podcast!  The podcast is available right here on the website.
Just look below and you will see a little black bar with a "play" button on it. Just click that play button and the podcast will start playing!
Right under the black bar, there is a link in blue that says "Download".  If you click on that link the podcast will download and you can listen right on your computer or any device that will play an MP3 file.
The only connection with iTunes is that they have a listing of podcasts, sort of a catalog, which includes The Expat Answerman Podcast.  But, anybody can listen in right here on LiP Website!
So, please listen in today and learn more about getting a 13G visa.  To listen just click on the black box right below this line!
Podcast: Play in new window | Download | Embed
Do You Have a Question?
If you want to send a question for inclusion in a future Podcast, just use the app below, click on the button below, where it says "Start Recording".
Questions submitted by eMail will no longer be answered, you must submit through the voice message above.
Thanks again for listening, everybody!