NEW articles daily! Subscribe below to receive daily updates with our new articles!

In my last article I told you about the first part of our recent trip to GenSan, and my Annual Report at the BI there.
The main purpose of the trip, though, was the family reunion.  This would be my first time to ever go to a family reunion, and I was not completely certain what to expect.  Last year was the first Bayoy family reunion, which I did not attend.  My own family has, as far as I know, never had a family reunion.  Hmm.. maybe they just did not want me to come so they didn't invite me! 🙂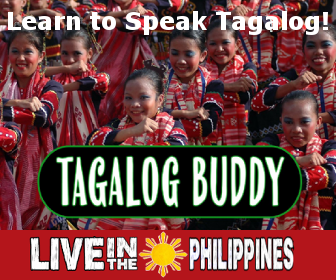 Well, we had gone down to GenSan on a Friday to take care of my business at the BI, and the reunion was on Saturday.  I am not really certain what time the reunion was supposed to start.  I asked Feyma but she was pretty non-committal in the way she answered, something like "maybe after lunch."  Hmm.. OK.  Well, we decided to go early in the morning, like 8am, so that Feyma could spend time with her family, and we could also help out with the preparations for the big reunion.
When we got there, which as I said was early, the first thing everybody did was tell me to sit down in the living room and relax!  That is how it always is, everybody is busy, but they want me to just sit and watch.  If I need a drink or anything I should just tell them so they can bring it to me.  Ha.  Well, to me that is boring, and I don't care to just sit there all day while everybody else is working or having fun.  I prefer to join in whether it be for the work or the fun.
I ventured outside into the dirt road in the barrio and my brother-in-law, Jhun, was doing the cooking for the reunion.  He was very busy with about a half dozen different pots of different dishes cooking over wood fires.  I told him that I would help him cook and he smiled and accepted my offer.  He assigned me to man one of the pots and "just keep stirring".  I asked him what it was that I was cooking since when I started it was just a pot with meat in some water that should start boiling soon. Jhun told me that it was Kaldereta.  I kept stirring, and Jhun would add in some spices and vegetables from time to time.  As the head cook of the kaldereta I had several assistants helping me out (kids) and I told them to watch the fire and make sure it had plenty of wood to keep things hot!
After a while it was looking like the meat was cooked, so I got a fork, took a small piece of meat and gave it a try.  It was pretty tasty.  It as at that moment that I made a special announcement to the crowd that was gathering, I told them that I was declaring myself to be the "Kaldereta King" and that for all future reunions, I would be the Kaldereta Cook.  I promised that next year I would have an apron with the words "Kaldereta King" emblazoned on the front.  I mean, if the food is good, it is good, right? Never mind that all I did was stir and tell the kids to watch the fire… that is the kind of thing that kings do anyway!  I am not wrong on this!
Well after my cooking duties were complete, I did venture back into the house and sat down in the living room.  But, the difference is that by this time there was a crowd gathering for the reunion.  There were a LOT of people to visit with.  Everybody was having a good time. I was giving a lot of my nieces and nephews (adults now) a hard time for one thing or another.  I like giving them grief, it is fun, and gives them a laugh too.  I am actually really close with the next generation of the Bayoy family.  These folks were all young kids when we got married, and now they have kids of their own.  Those kids of our nieces and nephews are fun to be around too.  I enjoy spoiling them a bit.  In the Philippines, the children of your nieces and nephews are considered to be your grandchildren. So although none of my kids have kids yet, I am a grandfather to many.  Probably some that I don't even know!
I enjoy kids a lot, and to be honest, at a party like this I prefer spending my time talking with the kids than with the adults.  I find it rewarding, and also very nice to show the kids that a foreigner can be their friend.  So many Filipino kids are afraid, or shy with foreigners.
Well, as the day moved forward, I found that I had a new friend, or maybe I should call him a fan to be honest.  His name is Jaijai.  He is the son of one of my nieces.  Jaijai is, I believe, 7 years old, although he looks about 4 years old to me.  It got to the point that during the reunion, Jaijai was always at my side!  If I got up and went somewhere he would follow.  He was constantly talking to me about all kinds of things, and I was really enjoying it myself.  Jaijai would talk to me in Tagalog a lot!  I can't speak Tagalog, but that was OK for him.  If he would speak Tagalog to me, I would speak back to him in Bisaya, and he was also OK with that. If I would be focusing too much attention on somebody other than Jaijai, he would start tugging on my shirt and say "Lo, Lo…" (short for Lolo).  I really came to like Jaijai.  I don't believe I knew him before, but if I had met him it was only briefly.  Now, Jaijai is looking forward to coming to Davao in March when school lets out for the summer and spending some time with Lolo. I am looking forward to it myself!
Another close friend was Ivan.  Ivan is the son of another niece.  I knew Ivan before, but he was kind of shy before.  He is certainly not shy now!  Very nice kid, and I enjoyed talking to him.  I also found that Ivan was a very handsome boy!  Good manners, well behaved.  He also told me he plans to come to Davao and visit during summer, and I told him that his very welcome here!
It seems that with the number of grandchildren that I became close to at the reunion, and the fact that all of them said they want to come visit during summer vacation, we could have quite a house full of kids!  That is fine with me, though, and I am looking forward to seeing them.
I had so much fun at the reunion that I can't wait for next year!  Seriously, I had a great time, and am glad that I went!