NEW articles daily! Subscribe below to receive daily updates with our new articles!

Feyma and I recently took a trip to General Santos City.  Our son, Chris, came along too.
It all started right after the New Year when Feyma told me that she would be going to GenSan for the weekend in mid-January, she said it was time for the family reunion.  Well, last year was the first time that they held a Bayoy family reunion, and I did not go down for it last year, so she assumed that I would not want to go this year either.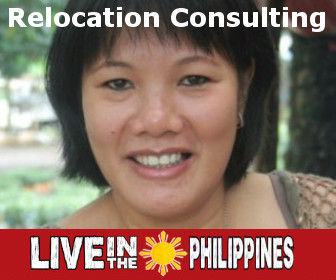 When she told me, though, I got thinking, and realized that it was January, and I have to do my Annual Report to the Bureau of Immigration in either January or February.  I had just seen a post on Facebook by Chris Dearne, and he said that it took him only about 5 minutes to take care of the Annual Report at the General Santos City Bureau of Immigration office.  Hmm.. it usually takes a lot longer than that in Davao, there are a lot of people in line.  So, I decided why not take the trip with Feyma, go take care of my Annual Report and then attend the family reunion.  Sounded like a plan.
So, on Friday morning we caught the Mindanao Star bus down to General Santos City.  The bus line is a relatively new one operating here, so we wanted to try them out.  The bus was very nice, first class all the way!  Very comfortable.. albeit a bit too cold in there, the air conditioning was really good!
We arrived in GenSan at about 9am and went to my sister-in-law's house to get her.  She accompanied me to the Lagao Barangay Hall to get a Cedula (required for the GenSan BI office).  A Cedula is a tax certificate, basically declaring that you paid your taxes.  I got it quickly, no line to wait in, so we were there for under 10 minutes.  After the Cedula, we headed to Robinson's Mall, which is where the Bureau of Immigration office is located.  It was kind of funny, because it seems that the mall is mostly government offices now!  That surprised me, because I had not been in that mall for a few years.
The entire Annual Report procedure at the GenSan BI took less than 30 minutes.  It took longer for me (compared to what Chris reported) because I usually do my Annual Reports in Davao, and they had to dig to find my records in GenSan.  That was OK, though, it was still quick and pain free.  It was nice to have my Annual Report out of the way.  I usually do it in February, and the deadline is the end of February, so I got it done early this year!  I gotta keep doing that!
After taking care of my BI business, we picked up some family members and took them out for lunch at Marieta's BBQ.  Really had a great lunch there at Marieta's, it is a simple place, but the food is great!  It is a can't miss for us if we go to General Santos City.  We saw Marieta there, she is the owner and has had the place for decades!  Marieta is very close with us, and I call her my "GenSan Mom".  She really is like family to us, and it was nice to see her, it had been a couple of years sine we saw her. Great food, great people, how can you possibly beat that?  For lunch we had some BBQ Pork, BBQ Chicken, Seaweed and Rice.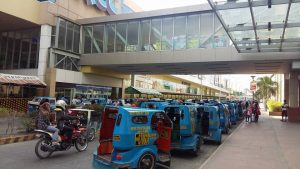 We lived in GenSan from 2000 through 2002, and I liked it just fine.  We've been in Davao since then.  If it has been a while since we have been to GenSan, I kind of miss the place, and even reminisce about it, thinking maybe it would be nice to move back.  Feyma is from GenSan, so she loves it.  However, when I do go back to GenSan it does not take long for me to realize that I could never live there again.  Why not?  Well, the biggest problem there is the transportation.  There are literally tens of thousands of tricycles plying the streets.  Very few taxis around, and the taxis that are around don't use the meter.  They charge exorbitant prices.  It is funny that there are also very few Jeepneys in GenSan.  For me, in Davao, my primary mode of transportation is Jeepney, I enjoy riding them, and also the transportation cost is so low!  If I am hot or tired, I will take a taxi.  Over the past few months I have been riding taxis for the most part, because after surgery, I wanted to avoid germs as much as possible.  But, even the taxis in Davao are relatively cheap, nearly every taxi driver gladly uses the meter and they don't try to jack up the fare.  In GenSan, the transportation is terrible, though.
So, when I go down to GenSan, I quickly realize that it is not for me, as a place to live anyway.  I love Davao, things are convenient, well run, and efficient.  But, by the next time I go to GenSan I am sure I will be reminiscing about the place again and thinking that it might be nice to live there again! 😉
In my next article I will tell you about the reunion we attended.